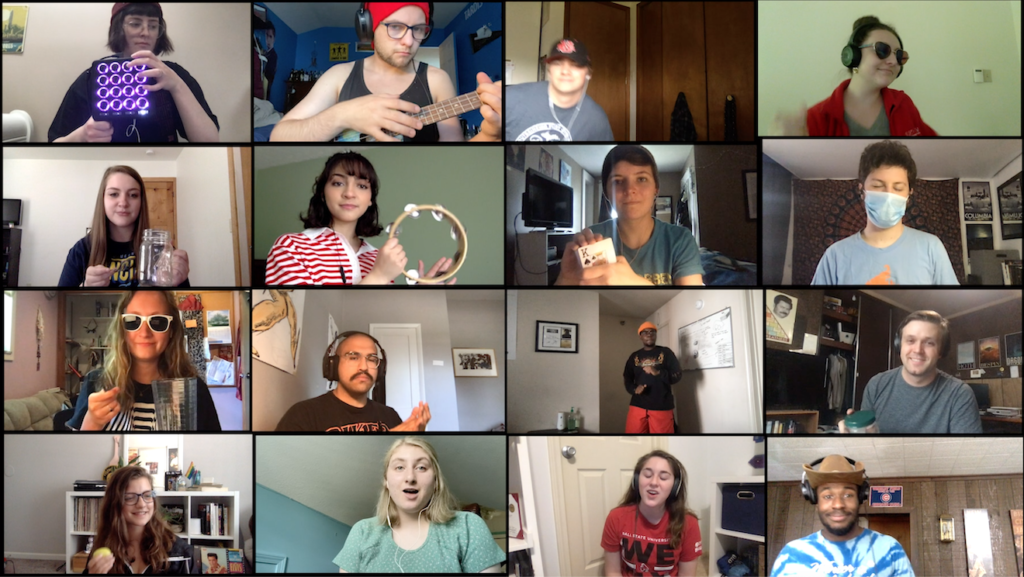 Just over a year ago, I walked out of a movie theater feeling immersed in culture and art after thoroughly enjoying the Best Picture-nominated Jojo Rabbit. With eyes still adjusting to the outside reality and the taste of butter-saturated popcorn clinging to my tongue, I didn't know it would be my last theater experience for a long time.
Millions of movie-goers, myself included, didn't expect the toll the COVID-19 pandemic would have on the film industry. A CNBC article reports that "the film industry is in limbo and the coronavirus is costing the box office billions of dollars," a massive blow to theaters. Moviemakers, video agencies, and even the Ball State Digital Corps needed to quickly adapt to remote production—challenges which could lead to more digital work in a post-pandemic world.
Adapting the Production Process
From live TV script reading events, to nightly news show hosts recording from their living rooms, people are evolving with the constraints of the Coronavirus. Video crews need to consider safety more than ever, and the Digital Corps' team is no different. As the pandemic continued into the Fall of 2020, the Corps introduced policies to ensure the safety of all Video Team members: including hand sanitizer in camera cases, reducing the number of people on sets, and quarantining equipment after use.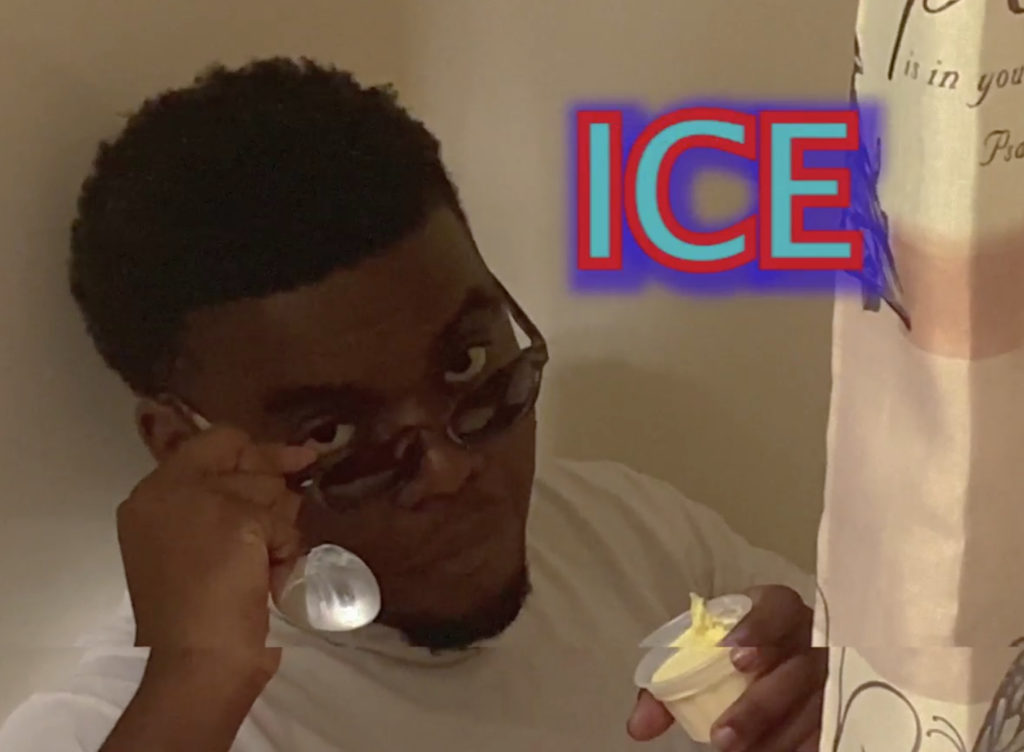 Though these precautions prevent exposure to disease, they also complicate the typical hands-on process of video production. As a Production Specialist, Video Team Master Musifiky Mogwe-Mulwale had to adjust to the challenges of a socially distanced set. Normally, he would be able to stand beside coworkers and help with Corps equipment, but social distancing opens different possibilities for learning about hardware.
"For the first time ever, we're letting people use their own equipment," says Mogwe-Mulwale. "It's cool for the people to get practice and it's really unique."
Corps students have become creative when capturing footage at home. Video Specialist Lexi Esterle had only her phone and a small tripod from Dave & Buster's, so she had to jury-rig her remote workspace into a functional set. She found that filming remotely with Zoom and QuickTime presented new challenges to overcome. From having roommates "on set," to equipment limitations, remote filming gave Esterle a new appreciation for the traditional process.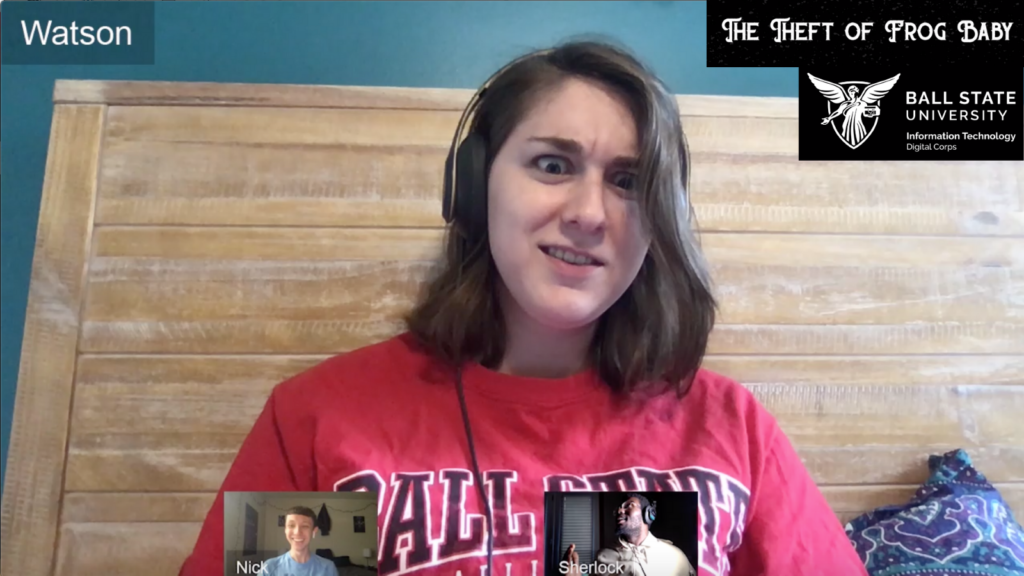 Though video production may always have physical components, Rev, a company with leading AI technology in converting audio and video to text, reports that "the industry is realizing that it can shift work to remote post-production."
Going Even More Digital
Emerging technologies allow digital creators to overcome the challenges of social distancing. Rather than shooting footage or being on-set during the lockdown, Corps students began experimenting with animation technologies to create while quarantining.
Despite the many unforeseen obstacles of the pandemic, the Digital Corps and other video production agencies used technology to maintain productivity and shift work focus. Shifting video production to animation not only makes content creation safer, but also provides people with the opportunity to work with different technologies.
"I got to learn a lot more about After Effects and animations," says Esterle, "which I probably wouldn't have done without working from home."
Ball State alumna and past Video Master Alana Guidry now works remotely as a Video Artist for the User Acquisition Team at Activision, a leading developer, publisher, and distributor of interactive digital entertainment. Guidry's experience at the Corps helped her land a job in the booming video motion graphics industry where she does game play capture for Call of Duty Mobile advertisements.
"The Corps teaches you to be well-rounded," says Guidry, "and being in the motion graphics field has given me more opportunities."
Working outside of an office environment can be difficult, so having at-home access to creative technologies makes remote work better. According to the Rev article, agencies can improve their digital content by "outfitting more crew members with high-end machines." The Digital Corps provides students with the Adobe Creative Cloud as well as hardware to get the job done. Similarly, Activision provided Guidry with extensive at-home tech to improve the quality and experience of remote work.
"Activision sent me equipment and made sure my workstation was exactly how it needed to be to work remotely."
Creative Opportunities
The office is where some of the Digital Corps' best ideas happen, and remote work forced the Video Team to get creative in a different environment. With holds on client projects and a lack of in-office content, Corps students had to think outside of the camera lens.
"Remote work challenges us because we're not able to film in the way we're used to," says Esterle, "but it presents opportunities to be more creative."
During her last summer at the Corps, Guidry pushed creative boundaries as an animator and a leader. She worked on the fun and informative "Corona Mon" video, an entirely digital project explaining coronavirus safety precautions. Additionally, she brainstormed weekly prompts that not only challenged Corps students to get crafty, but also generated unique social media content. Ultimately, the pandemic pushed Video Team members to ideate and expand skillsets, more so than ever before.
"This semester is probably the most creative I've seen people be," says Mogwe-Mulwale. "There's limitations, but people have really been experimenting."
Despite the challenges of COVID-19, the video industry and the Digital Corps are finding ways to keep moving forward. Though we miss those sticky movie theater floors and overpriced snacks, the events of the past year sparked innovation and gave a whole new meaning to "home video."