The age-old debate between remote and in-office work has taken a new turn in the wake of the global COVID-19 pandemic. Businesses and organizations around the world have realized that they do not need to be in-person to function, while others have learned that they struggle without physical interaction.
Here at the Digital Corps, students and staff have experienced both sides of the spectrum. For almost two years, we worked many of our hours from home with very restricted in-office hours to prevent the spread of COVID-19. With relaxed University restrictions, we are back to working fully in person. 
For our veteran students and staff members, adjusting back to the office has been a familiar task. However, our new hires and younger students have spent most of their Digital Corps time working remotely. In a survey, most of our students said they preferred in-office work because it made sense for our unique agency setup.
With changing times and better access to technology, more and more companies are shifting towards remote work as the norm for their business operations, or a split between in-office and at-home hours. For some, working remotely makes sense and works. For others, it doesn't. As our students start to consider their futures and what their working life will be like in the next few years, there are options to consider when exploring remote and in-office occupations. 
Working from home
When done effectively, remote work is a great option for motivated and independent workers. However, the at-home environment comes with its own set of potential problems.
One benefit of working from home is an increase in flexibility. Unlike the standard 8-hour workday, being at home allows people to work on their own time and not be bound by strict hours as long as tasks are being completed on time.
Remote work also leads to improved attendance. According to a blog from Spica, commuting takes time, energy, and money away from workers, which can be exhausting over time. Removing the stressors involved with commuting leads to workers getting plugged in right away because it's easier.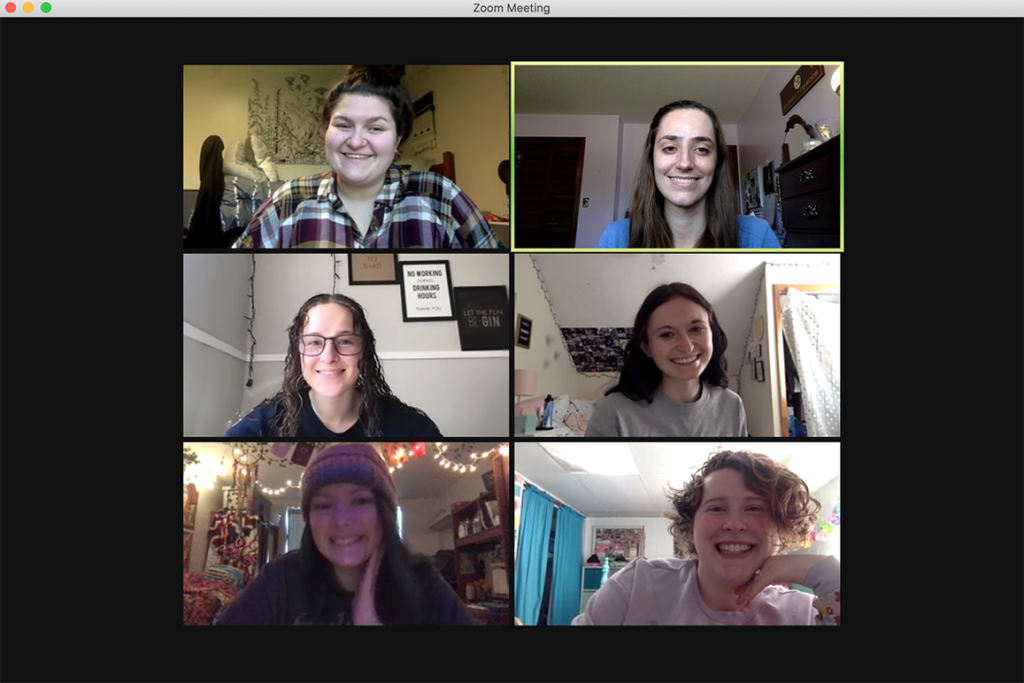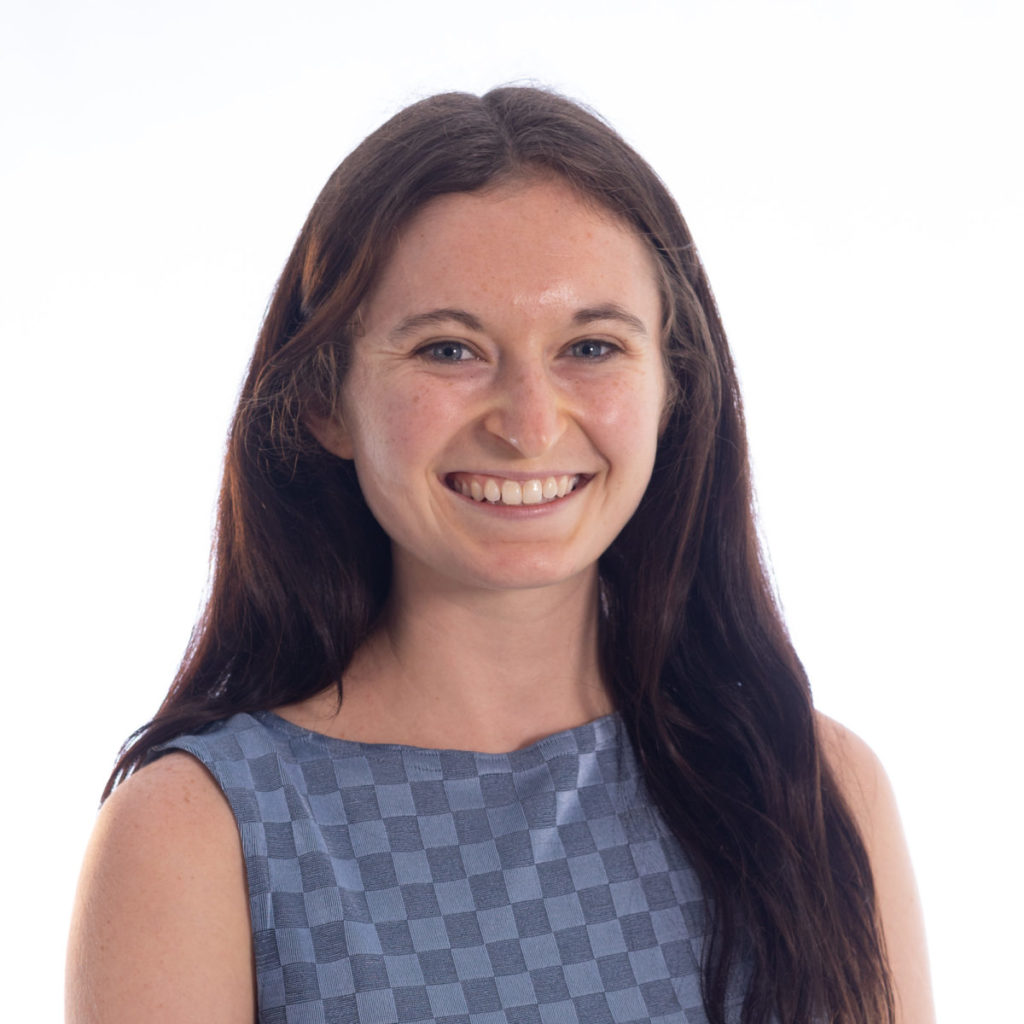 "……I actually found a lot of enjoyment in [remote working]. I had the chance to practice time management because I had to schedule my day out completely. It was also easier for me to get ready for the workday because all I had to do was turn on my computer," Communication Team Specialist Bridget Junker said. "I didn't expect to like it, but I feel a lot more confident in my time management skills and could see myself working remotely in the future."
Even so, flexibility and improved attendance can go south quickly. When working from home, it is easy to feel like you always need to be available or "plugged in." Eliminating the office takes away from establishing a healthy work-life balance. It's also easier to get caught up in household chores to avoid work tasks that need attention, which decreases productivity.
Additionally, adjusting to a new job remotely can be difficult. Online onboarding makes building bonds with new coworkers and feeling confident about a new position difficult. Our Fall 2020 and Spring 2021 New Hires were introduced and onboarded to the Digital Corps remotely, which gave them a much different experience than New Hires before and after who were able to complete their training in person.
Video Team Specialist Jacob Newlin was a Fall 2020 New Hire who completed his training from his dorm room. With a position that requires hands-on tasks, joining the Digital Corps was different.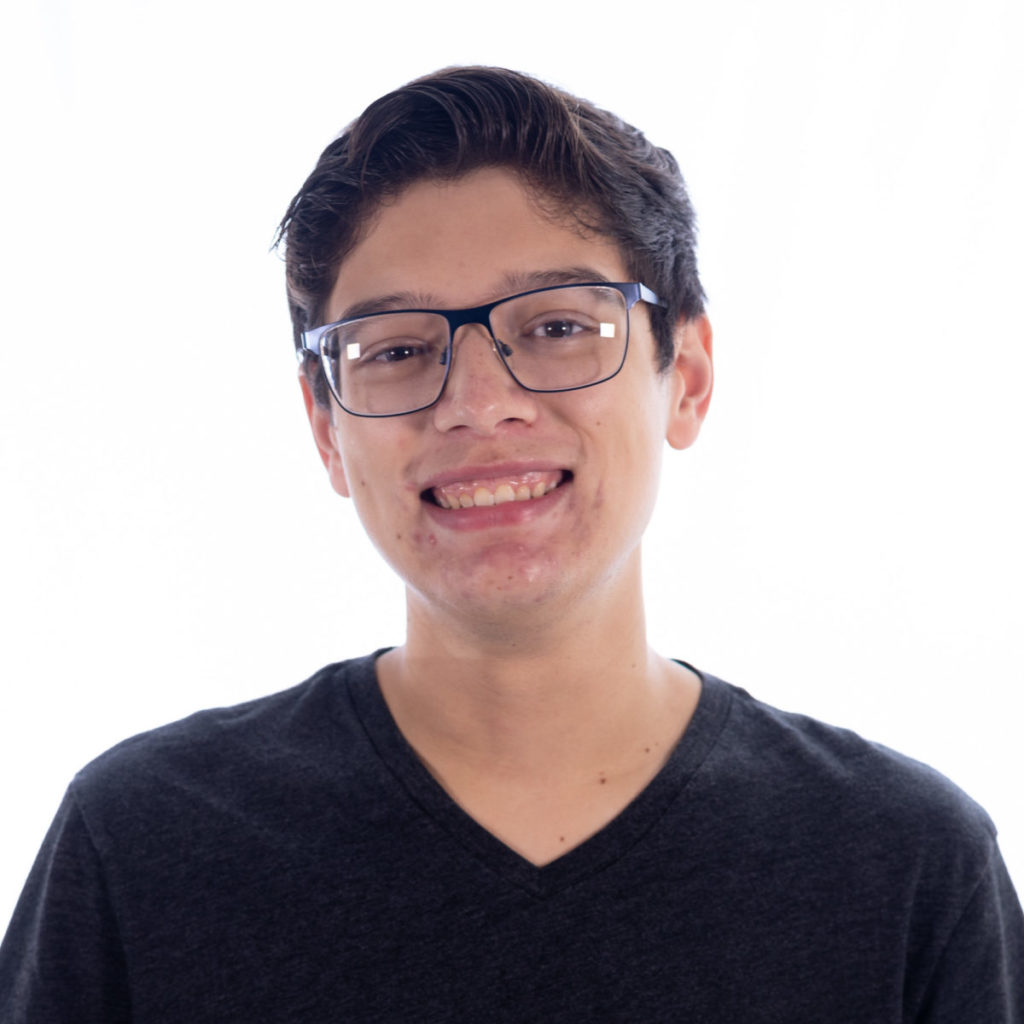 "It was very weird to start at the Corps during remote work because it made it hard to meet people and get hands-on with the equipment. I think that if I was able to start fully in-person, it would have been easier to make friends at the Corps and get more experience," Newlin said. "It was a bit strange coming into the office once we went back to normal because it felt so much more lively. It was definitely a good change, but a very different environment."
When considering remote versus in-office jobs, it's important to factor in how adjusting to a new workplace will be over the computer when access to individuals or equipment you may need becomes a factor.
Being in the office
Working in an office is the traditional approach to work. For some, being physically present in the building is the best way to go, but with changing times it's become evident that in-office isn't necessary all the time.
Creative agencies like the Digital Corps benefit from face-to-face collaboration. Our office space is set up with collaboration in mind. Students have easy access to staff members when they have questions, and desks are set up to encourage sitting and working together with enough space between to move around for a change of scenery.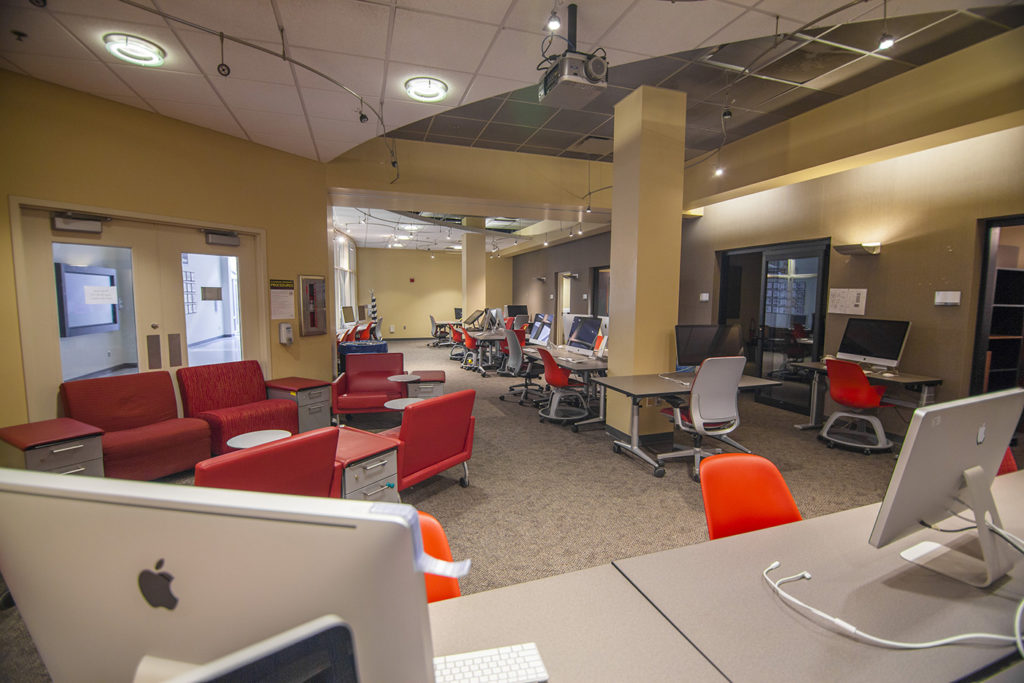 A blog from Viccarbe says being in an office allows for a better-distributed workspace where workers can carry out tasks in functional and highly optimized ways. In-office spaces allow for workers to move around in a fluid manner, which improves interaction with others. Anyone who walks by the Digital Corps office will see students and staff moving to and from different areas of the office to talk to others and get work done.
Asking questions, clarifying tasks, and staying in the loop are easier when you can find someone in the office quickly instead of sending a digital message and waiting for a response. Streamlining simple project tasks can be easier when the people you need are available and less than 10 feet away.
User Experience Master Hailey Leonard prefers in-office work to working from home. As a veteran Digital Corps student, she has experienced both types of work during her time at Ball State.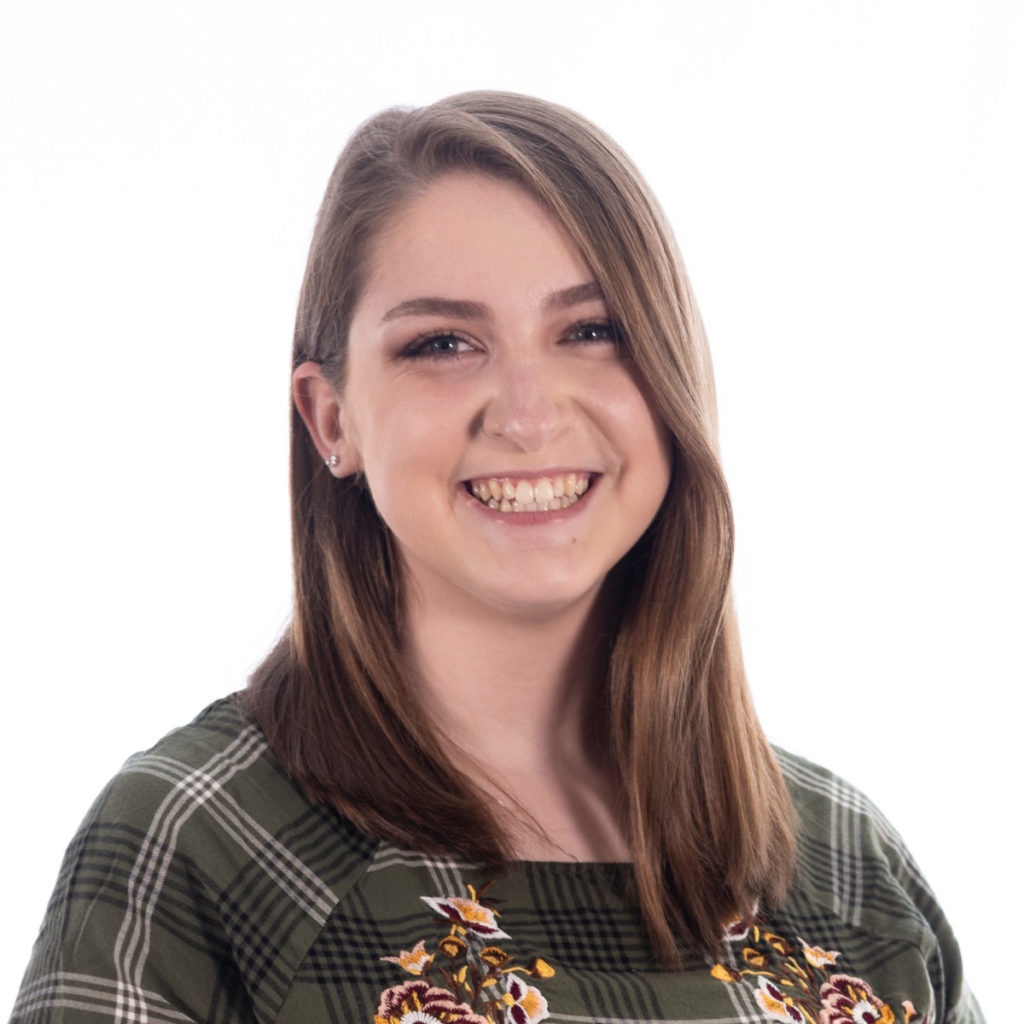 "I'm not one who likes to work in my room by myself. I like being in the office around other people because when they are working, I'm more motivated to work too," Leonard explained. "Being in-person helps more with collaboration, and I felt like over Zoom everything was scheduled, even if it was just to talk to someone in 15 minutes. There were more meetings, and it was so tiring."
Team morale also increases when workers are together. When we're in the office at the Digital Corps, we can ring our bell to celebrate project completions together, celebrate team appreciation weeks with office activities and food, and welcome our new hires with face-to-face onboarding.
Being around people can fuel individual productivity when working towards common goals, but it can also lead to more distraction. Side conversations and busy in-office hours can make it harder to stay focused when working.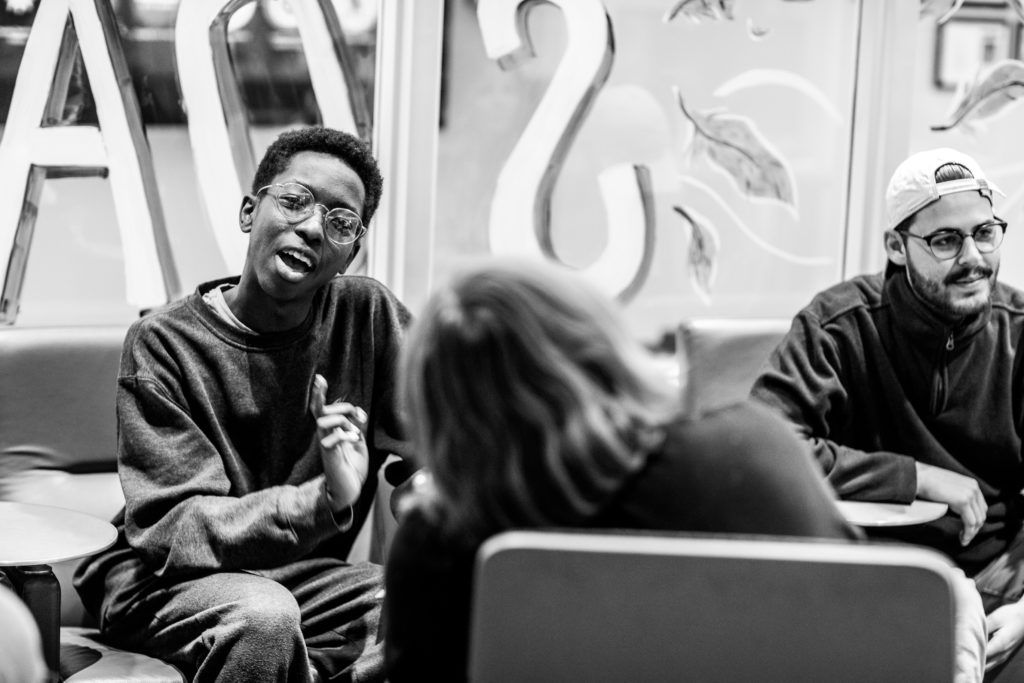 Graduate Assistant Addison Paul has experienced the downsides to the in-office environment throughout her years at the Digital Corps.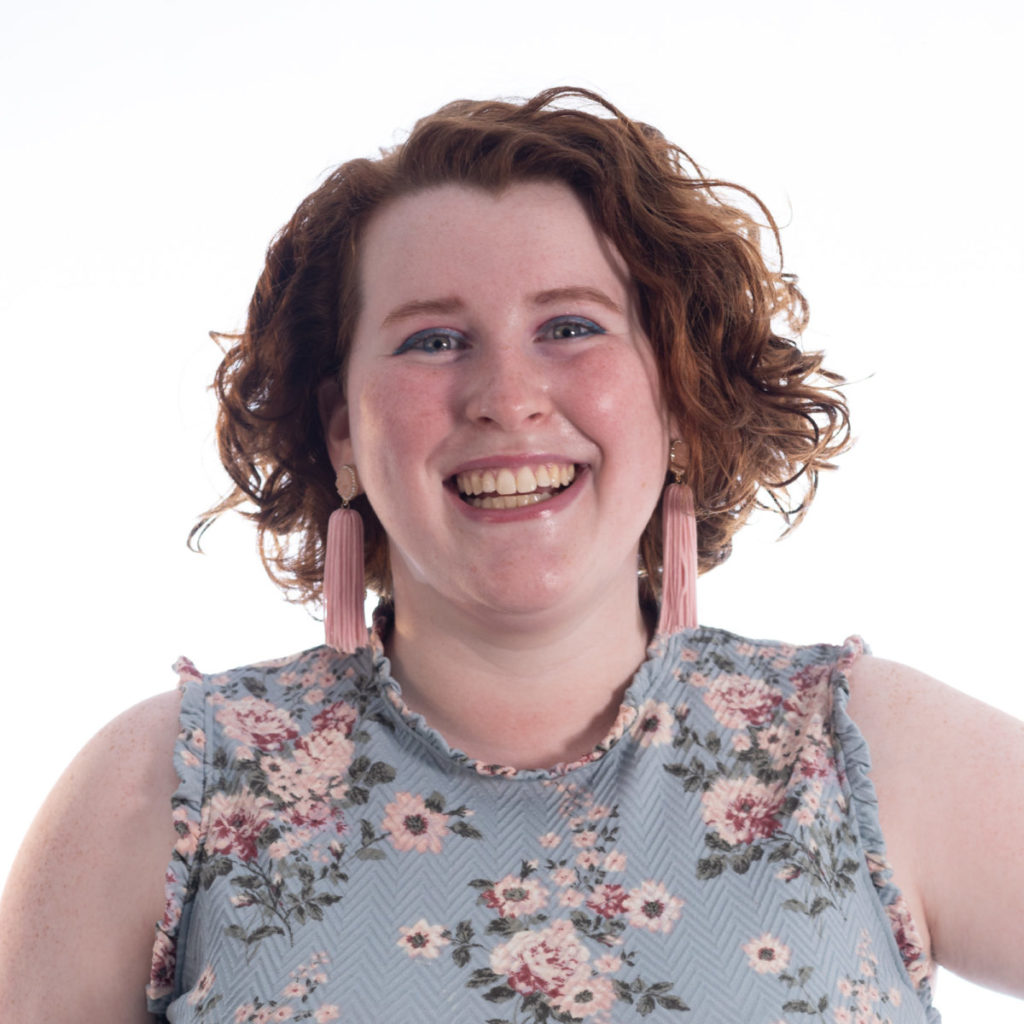 "I tend to get chatty with people, which can inhibit my time because I want to talk to and interact with other people, but then I lose track of time," Paul said.
Feeding off the energy of others can also negatively impact the moods and attitudes of workers, especially when larger project deadlines are approaching, or something is behind schedule.
Paul also has experienced how changes in energy can negatively impact others in the office.
"Stress and negative energy are most present in project meetings when there are problems or disagreements," Paul explained. "I feel like everyone's been in a meeting where an issue has brought down everyone's mood."
When stress levels start to rise, more individuals are likely to develop stress due to those around them who are also worried.
---
Overall, there are benefits and drawbacks to both remote and in-office work. Flexibility and attendance improve when working from home, but managing time, tech issues, and the pressure to be plugged in arises. Face-to-face collaboration and better team morale make in-office work enjoyable and productive, but distractions from coworkers and the energy of others can lead to increased stress and time away from project work.
No matter which direction our students choose to go after they graduate, their experience with remote and in-person work while at the Digital Corps will prepare them and help them adjust to the demands of their future careers.