The Digital Corps has gained many teams with countless skills since it began, and each brings a new dimension to what the Corps is. Among these is the Communication Team, which tackles analytics, email marketing, long-form content writing, and persona development. The range of tasks assigned to this team's members is wide and ever-changing, so no two work days are alike. Social media management, however, is a constant responsibility for much of this team. While this is often overlooked as a minor detail of the Communication Team's duties, it is representative of the skills and responsibilities of the Communication Team. With the growing popularity of social media as a form of communication and marketing, there is much more to managing a platform than simply posting status updates.
A recent change in the Communication Team's social media management strategy is the introduction of performance reviews. These happen monthly for each platform — Facebook, Twitter, Instagram, and LinkedIn — and are led by each platform's respective manager. The platform's engagement, posting strategies, and changes over the course of the month are reviewed, and the team has an opportunity to ask questions and offer suggestions about the platform in the process. With components like SWOT (strength, weakness, opportunity, and threat) analyses and analytics-based recommendations, these reviews help track the progress made toward goals that create an accessible online presence for Digital Corps.
Megan Barry, a Communication Team Apprentice, has been learning the ins and outs of managing a Twitter account for almost a year and has found how important it is to be active in more ways than one. "It's a relevance-driven platform for sure," she said, in reference to the ever-changing Twitter trends that impact what becomes most popular. This aspect of the platform presents a unique set of challenges for Megan as a manager, especially when Twitter trends die down just as the Corps office becomes inactive. "Trying to figure out what to do, that's probably my least favorite part, when there's a dry spell," said Megan.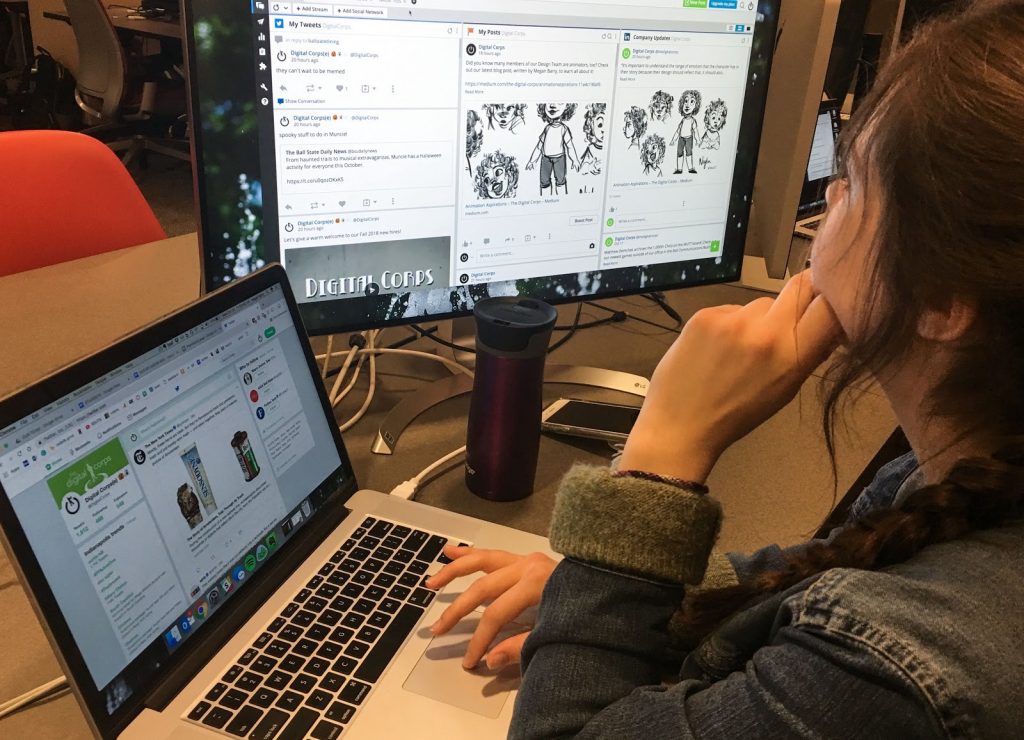 In addition to keeping the Twitter account active, Megan herself is constantly keeping up with the data behind the content in order to make the page as successful as possible. With a performance review to think about every month, she is always reviewing and interpreting the success of each post, from how many people actually see it in their feed to how many likes, comments, or retweets it brings.
"I'm constantly looking at my analytics to see how things are performing, and that influences what I'm going to tweet the next week," said Megan.
Learning how to better keep up with Twitter trends and analytics isn't the only knowledge Megan has gained from performance reviews. The team aspect of the process is also improving her understanding of the platform and helping her learn things from its performance that she might otherwise miss.
"I think the most valuable part is when people ask questions; when the other team members point things out…When I explain it, it helps me get a better understanding of what is going on. Sometimes they can point out observations and connections that I don't notice," Megan says.
While every social media manager presents performance reviews, each benefits differently from the process. Addison Paul, a Communication Team Apprentice, has been managing the Digital Corps Instagram account since January 2018. For her, performance reviews have brought on an entirely new way of thinking and helped her build skills she had not previously given much thought to.
The aesthetic aspect of Instagram came to Addison fairly naturally, but the introduction of performance reviews drove her to think more critically about managing the platform. Audience engagement is a major part of tracking success on Instagram, and Addison had to adapt to this quickly. "[Managing Instagram] makes you consider the technical side of things a lot more. Not just, is this picture pretty…will this engage our audience? Will people feel like leaving a comment, liking a post?"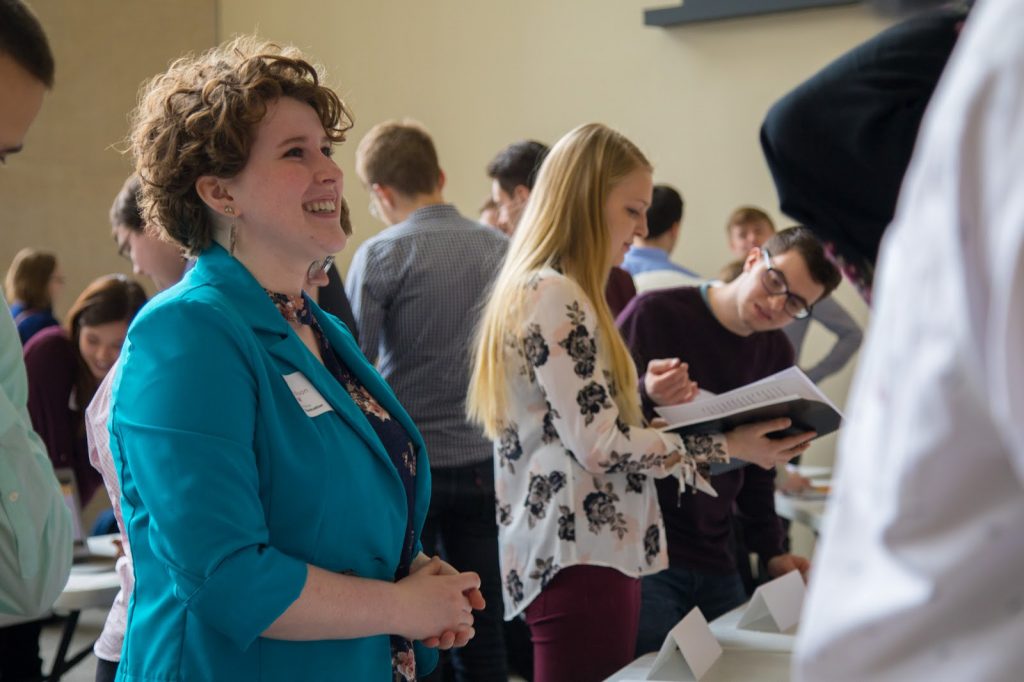 In addition to improving her understanding of analytics, Addison built other personal skills through performance reviews for her team. Although she is no shy speaker, Addison had not previously presented her work in a professional environment.
"I don't mind giving presentations," says Addison. "I enjoy sharing things with people, but doing social media performance reviews has helped me hone that skill and get more practice in how to present something professionally, not just for a class project."
Social media can be easy to overlook as a minor aspect of a team's responsibilities, but it has the potential to improve countless skills of those who manage it. Personal improvement, team building, and industry awareness can all come from the simple process of managing, reviewing, and sharing successful social media accounts.