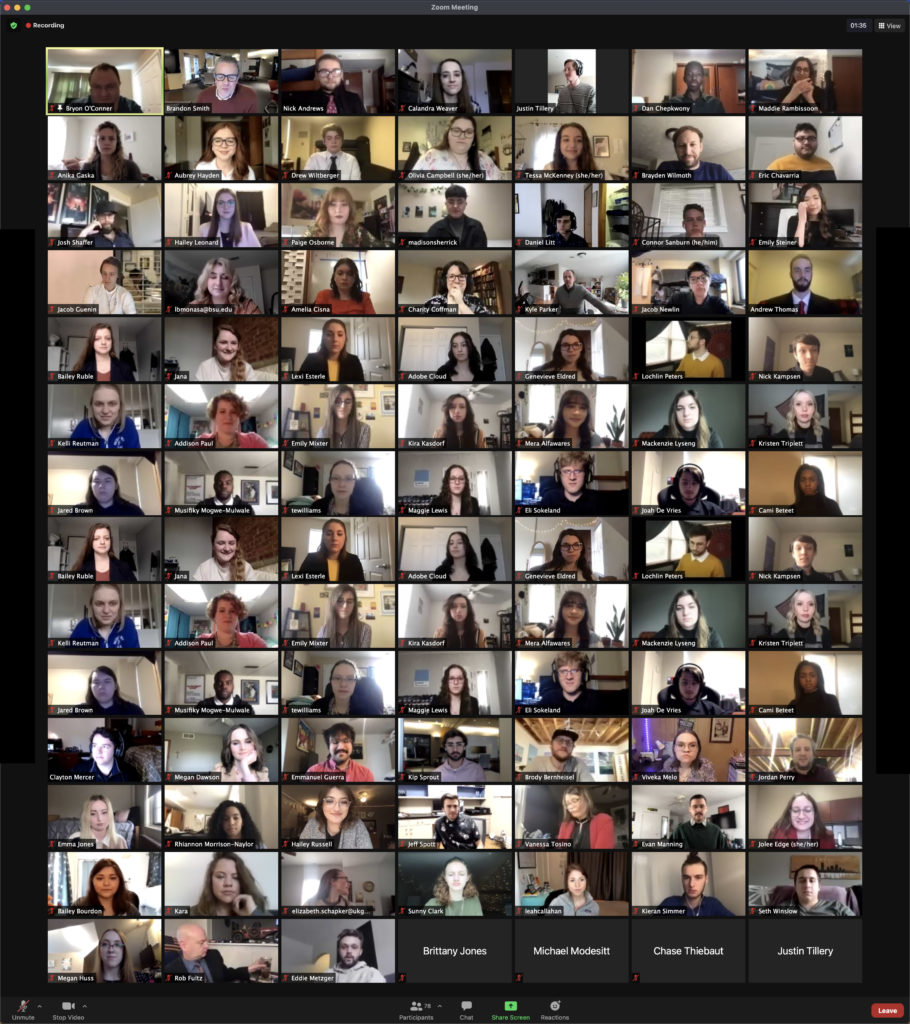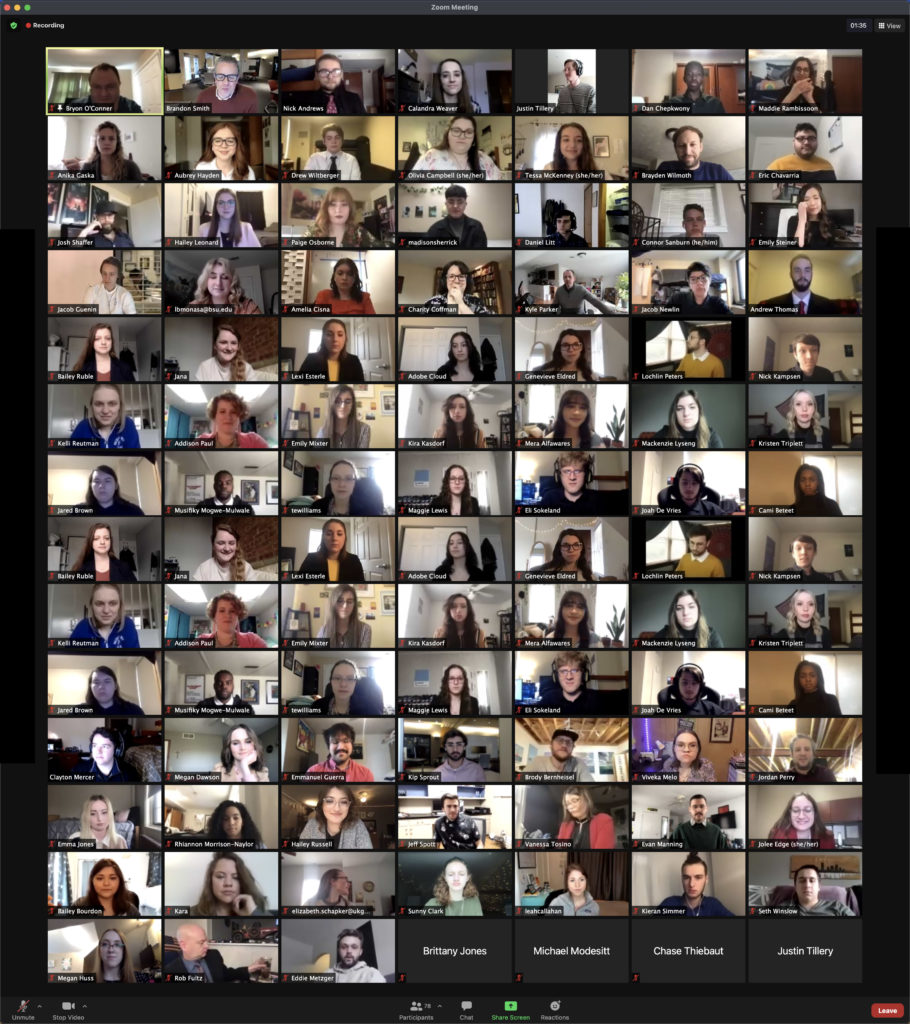 Stiff slacks, sticky nametags, and glazed donuts—all hallmarks of the Digital Corps' annual professional development conference, Portfolio Day. Each year, students don their blazers and dress shoes and fill Ball State University's Letterman Lobby, lined with tables for a day of networking and showcasing industry portfolios. Thinking back to my first Portfolio Day, I remember the buzz of excitement and amazement from students, staff, and former Corps members. From video reels to personal websites, seeing my peers' work left me inspired and a little intimidated.
The complications of COVID-19 prompted the Digital Corps to cancel last year's Portfolio Day, and with the health of attendees in mind, staff elected to make this year's event entirely remote. As a current senior, I had to change my vision for how Portfolio Day would look, and luckily, I had the support of the Digital Corps while doing so. The Alumni Relations team specializes in connecting with and highlighting former Corps members to continually strengthen our network of professionals, and as the Junior Project Manager for the project, I was tasked with spearheading the organization for our inaugural virtual Portfolio Day.
Persistent Planning
With the overarching goal of connecting current students with industry professionals, the Alumni Relations team had the opportunity to reimagine what Portfolio Day could be. Months of research and planning went into the event, from an initial pitch presentation to weekly brainstorming sessions. With the combined knowledge of project managers, designers, videographers, strategic communicators, and user experience researchers, the team put together a pitch detailing potential problems and creative solutions. The team considered online logistics, how to keep participants engaged, and even how a digital format could improve the event, all while thinking about the needs of both young and experienced professionals.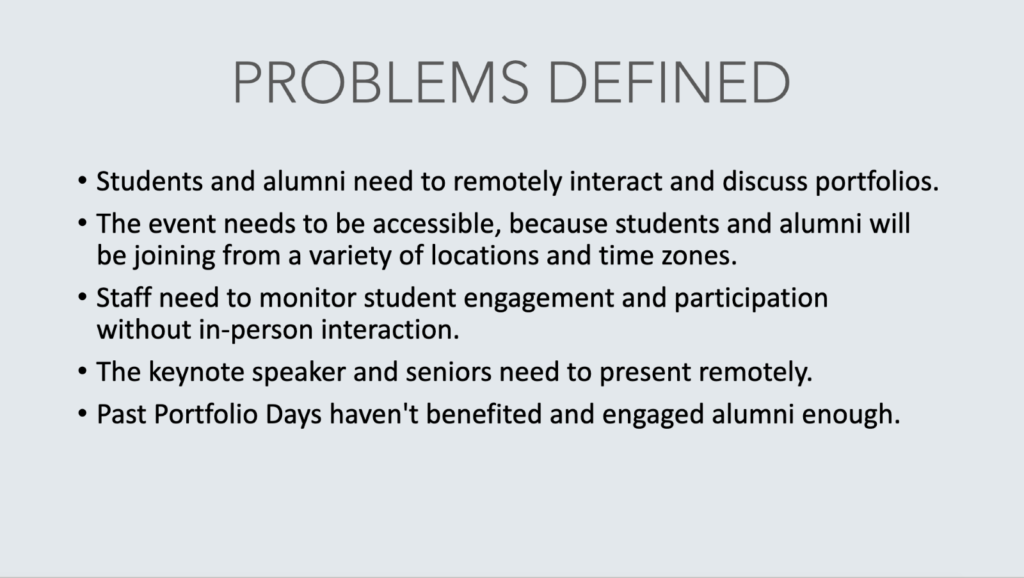 Looking at past Portfolio Days, the Alumni Relations team knew to incorporate some of the same components from previous years: a keynote speaker, a portfolio round robin, and senior presentations. It was hard for staff, former Corps members, and many current students to imagine what an online Portfolio Day would look like, but a large group of students had never experienced the event. Spring 2021 hire Kira Kasdorf was brand new to the Corps and to Portfolio Day, and though she had no idea what to expect, the event helped her jumpstart her professional portfolio.
"It was a great learning experience," said Kasdorf. "I really enjoyed getting feedback."
Similarly, User Experience Apprentice Megan Dawson had never attended Portfolio Day, and so her expectations for the 2021 event weren't based on previous years. As a member of the Alumni Relations team, Dawson played an important role in planning and organizing the technology for the digital conference.
Tasked with researching the benefits and limitations of online networking, Dawson solidified the team decision to use the digital video calling service, Zoom, for the event. Accommodating 70 plus people and a variety of activities meant that the Corps would need to explore different areas of Zoom functionality. Ultimately, the team decided to use a Zoom webinar for the keynote speaker section, individual Zoom rooms for the portfolio round robin, and pre-assigned breakout rooms for the senior presentations.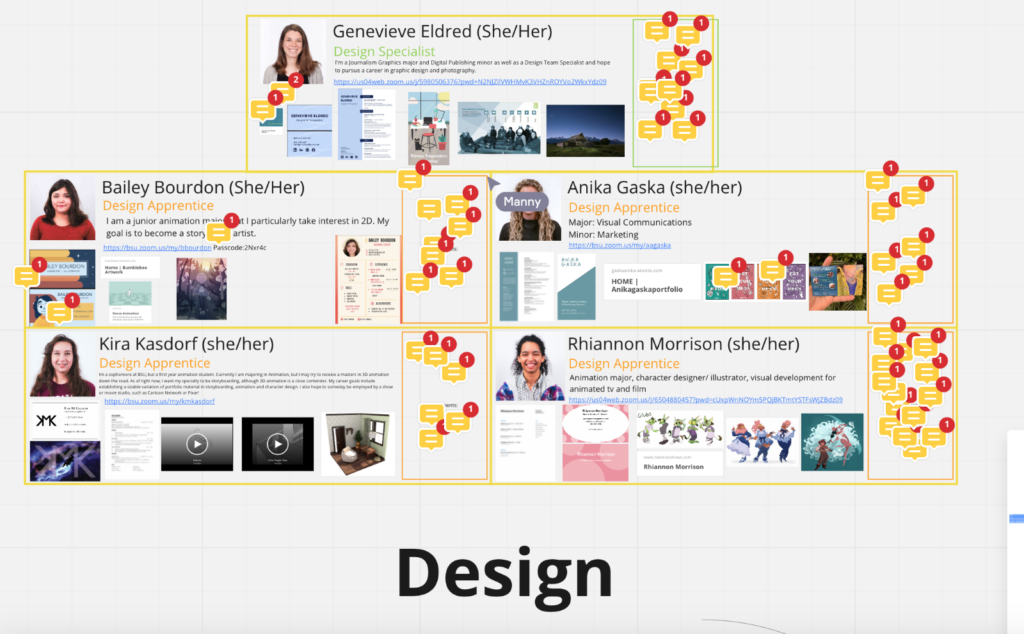 The team needed to find a way for everyone to interact and view the multitude of student portfolios. Normally, Corps members would set up their work in small stations and attendees would peruse the room and give feedback, akin to a science fair, but with laptops instead of trifold boards. To emulate the fluidity of this session, the Alumni Relations team chose to use the digital whiteboarding technology, Miro. Video Team Master Brittany Jones prepared a template with spaces for student names, brief bios, photos of work, personal Zoom links, and links to websites and reels. Jones refined the template into an easy-to-navigate display of student success with the help of Dawson and Design Apprentice Megan Huss.
"For Zoom logistics, I think it was important to research all different possibilities," said Dawson. "For the Miro boards, Megan, Brittany, and I used design thinking to create a good experience."
Staff Designer Josh Shaffer prepared a digital itinerary with embedded Zoom links to make transitioning from one session to the next as easy as possible throughout the day. The combined efforts of the Alumni Relations team made the event fun for students and alumni alike. For Project Management Graduate Assistant Vivkea Melo, the 2021 event was her fourth Portfolio Day, and even though she missed the in-person event, the virtual approach allowed for innovation.
"We've never had this before," said Melo, "And it was a great opportunity to improve."
Remote Networking
Though Zoom calls and the Miro boards could never replace face-to-face interaction, these technologies gave the event an unprecedented advantage: the highest alumni turnout in Portfolio Day history. While staff and students can normally expect a few friendly faces to make an appearance, the accessibility of this year's conference attracted 22 former Corps members from across the country. People joined Portfolio Day from Los Angeles, New York City, and Atlanta—a network spanning the United States. With both Spring 2020 graduates as well as some original Corps members in attendance, students were able to hear about a variety of experiences and industries.
Remote technologies helped facilitate interactions and even made reviewing others' work more efficient. Attendees left comments on the Miro boards, helping them organize their feedback and provided documentation for students to examine later. Initially, the Alumni Relations team planned to have participants leave comments in a designated space on the Miro board, but people left enough feedback to extend the borders of the comments section, and the final boards were peppered with valuable insights.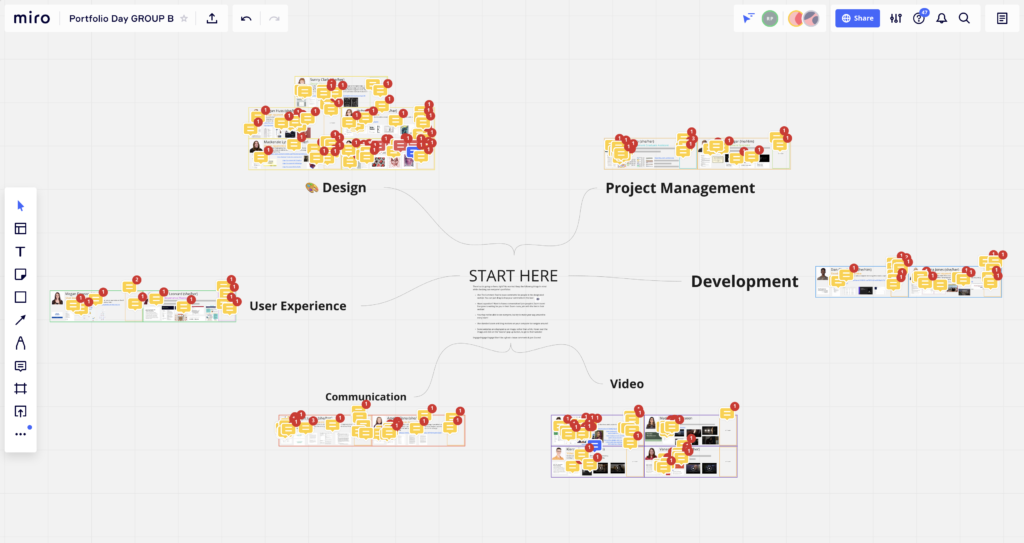 The Alumni Relations team decided to take advantage of the remote conference format and invite former Digital Corps students from across the country to tune in and share their experience and knowledge. Professionals from across the tech and communication industries reconnected with the Corps, including 2010 Ball State graduate and current freelance director and executive producer Brody Bernheisel. Based in New York, Bernheisel Zoomed in to be the keynote speaker, discussing his roots as one of the original Corps members and his impressive involvement in the video industry.
Alongside Bernheisel, Ball State alumni Jeff Spott (2018), Emily Mixter (2019), Brandon Jones (2009), Tyler Varnau (2014) and Emily Winslow (2019) brought their expertise to the virtual table for the Corps' first Portfolio Day alumni panel. The panelists led a helpful discussion, touching on moving to new cities, promoting professional skills, finding work as a recent graduate, and passionately pursuing dreams.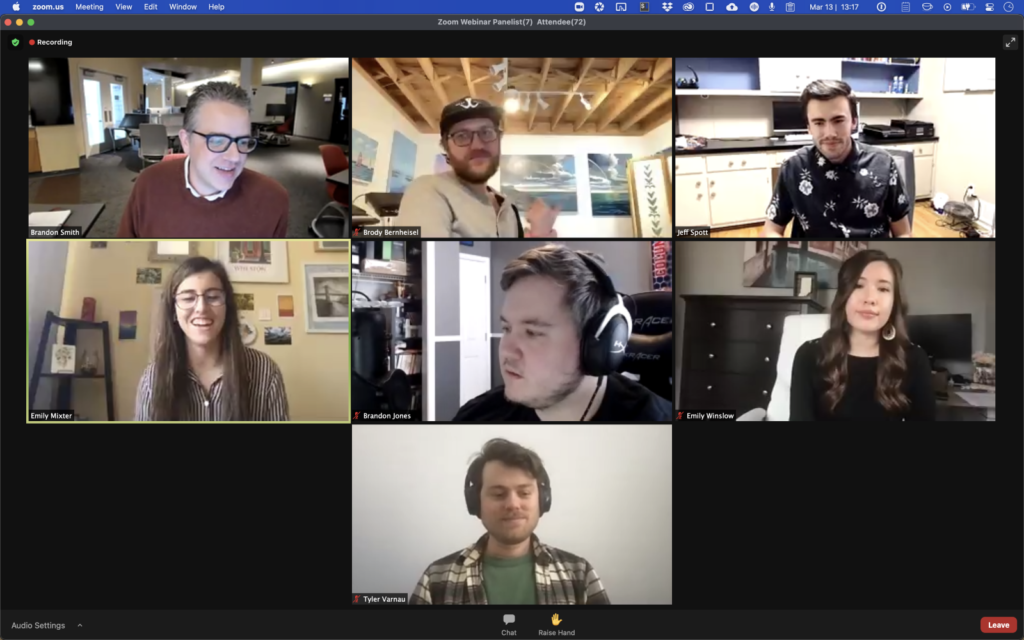 The addition of the alumni panel not only helped current students learn about life after college and going into the workforce, but also allowed seniors to expand their professional network. Video Master and soon-to-be graduate Musifiky Mogwe-Mulwale built relationships made possible by remote networking. At the end of the event, the Corps even gathered alumni contact information and online profiles, such as LinkedIn, to give students more access to the vast network of alumni.
"It was great to hear from [the alumni] and even listen to some of [their] life experiences," said Mogew-Mulwale.
Remote networking not only encouraged more alumni to engage, but also helped ease current students' anxiety about presenting their work. Pitching achievements and professional experiences to others can be intimidating, so the virtual format allowed students to feel more confident talking about themselves and engaging with others.
"I think there were a lot of positive things that came from Portfolio Day being online," said Dawson. "I felt super comfortable because I was in the comfort of my own room."
Corps Connections
Though Zoom reactions can't replace a good handshake, the Corps found digital ways to help foster and rekindle connections between students, staff, and alumni. Normally, graduating students would prepare presentations detailing their time at Ball State, the Corps, and their future plans to present in front of attendees. The Alumni Relations team wanted to keep as much of that experience as possible, and though bedroom workspaces aren't as exciting as classrooms with projectors, the seniors still made the most of their fifteen minutes to shine.
Personally, I loved the opportunity to engage with coworkers and old friends, and I think that the senior presentations help solidify those relationships before students graduate. With the opportunity to express individuality and celebrate success, the presentations build upon years of personal and professional connections.
"I tried to make it resemble the experience in person by having everyone unmute their microphones, so I could hear their laughs (or their boos) and react," said Development Master and senior presenter Drew Thomas.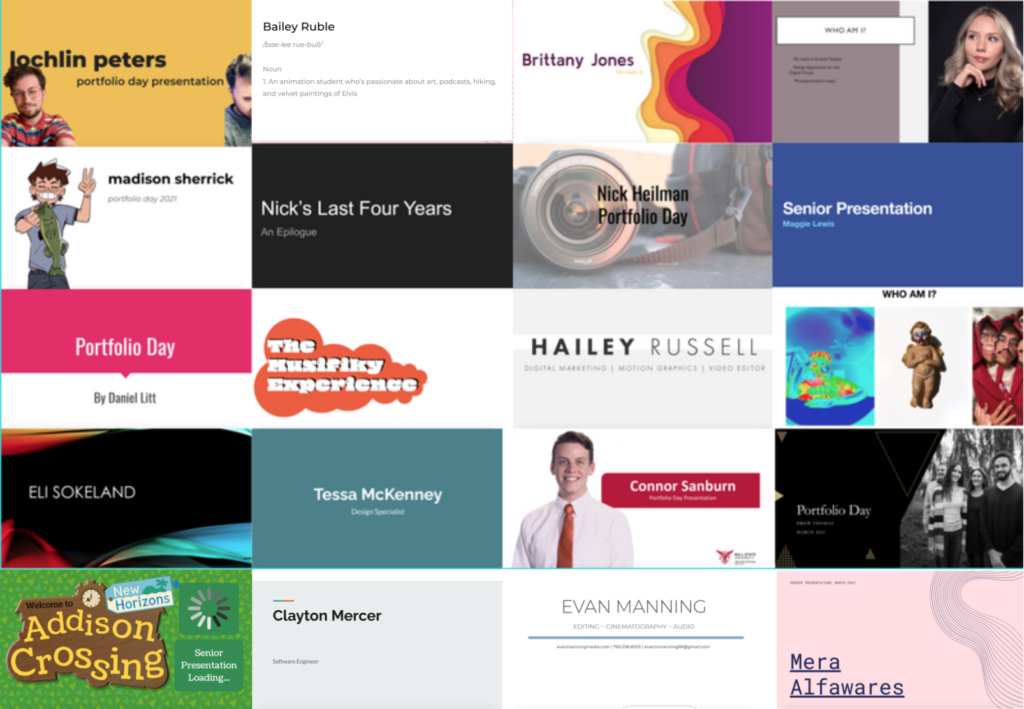 Portfolio Day acts as way for past and present students to reflect on their education and work experience, and the networking discussions can spark lifelong relationships. For Mogwe-Mulwale, the alumni panel prompted him to schedule a separate conversation with Bernheisel and form a professional connection.
"I knew that I wanted to reach out and talk to [him] immediately after the Alumni Chat," said Mogew-Mulwale.
Even alumni from over a decade ago immediately reconnected with each other over Zoom screens. Ball State alumnus and former Design Team member Tyler Varnau graduated with a journalism graphics degree in the Spring of 2014. Varnau, the Senior Product Designer at Lithia Motors, joined this year's Portfolio Day as one of the inaugural alumni panelists. Reflecting on his time at Ball State, Varnau enjoyed seeing the new and old faces and knowing that he played a role in shaping what the Corps has become.
"I honestly owe my entire career to the Corps," said Varnau. "It was such an amazing experience and I'm always stoked to see how much [the Corps] is growing."
Even though we didn't get donuts this year, Portfolio Day still provided opportunities for networking and professional development. From a spectacular turnout of alumni to a more efficient display of work, the 2021 event could mean a more digital future for Portfolio Day. Of course, screens could never replace face-to-face interactions, but when one door closes, we open a new tab.