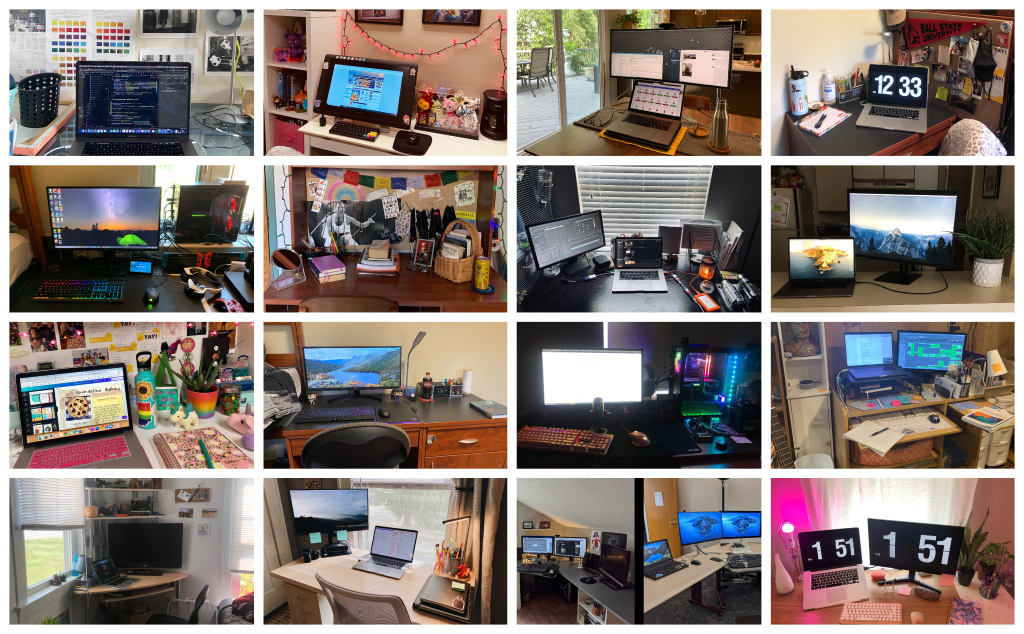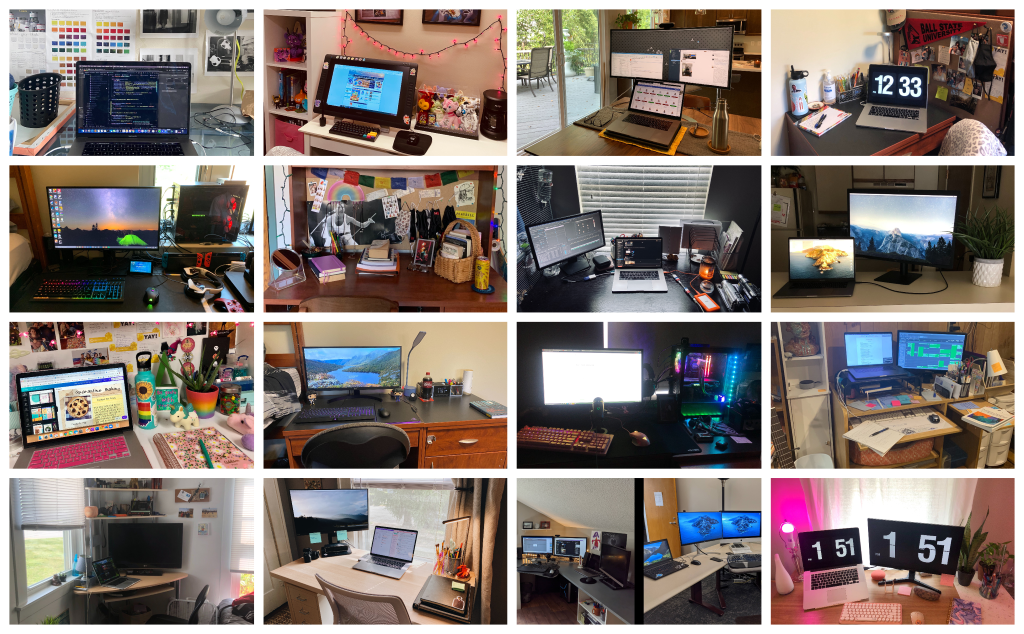 As a Communication Master at the Ball State Digital Corps, I've experienced both ends of the work-from-home spectrum: shrugging on a sweatshirt and taking my meetings on the couch, as well as dressing to impress and working at a tidy desk. Early on, I didn't prepare for remote work further than grabbing a lap desk, but as the weeks turned into months, my poor habits not only gave me carpal tunnel syndrome but made me dread "going" to work. Even though the work itself hadn't changed much (after all, "Digital" is in our name), I found myself struggling to stay motivated. 
Part of the Digital Corps' appeal is the fast-paced office where students and staff collaborate and engage in socialization every day and losing access to that impacted myself and many of my coworkers. After months of feeling lethargic, I realized that my problem wasn't a personal lack of passion, but rather that my workspace lacked the creativity and functionally of an inspiring environment. So, I finally spiffed up my remote workspace—and it actually worked!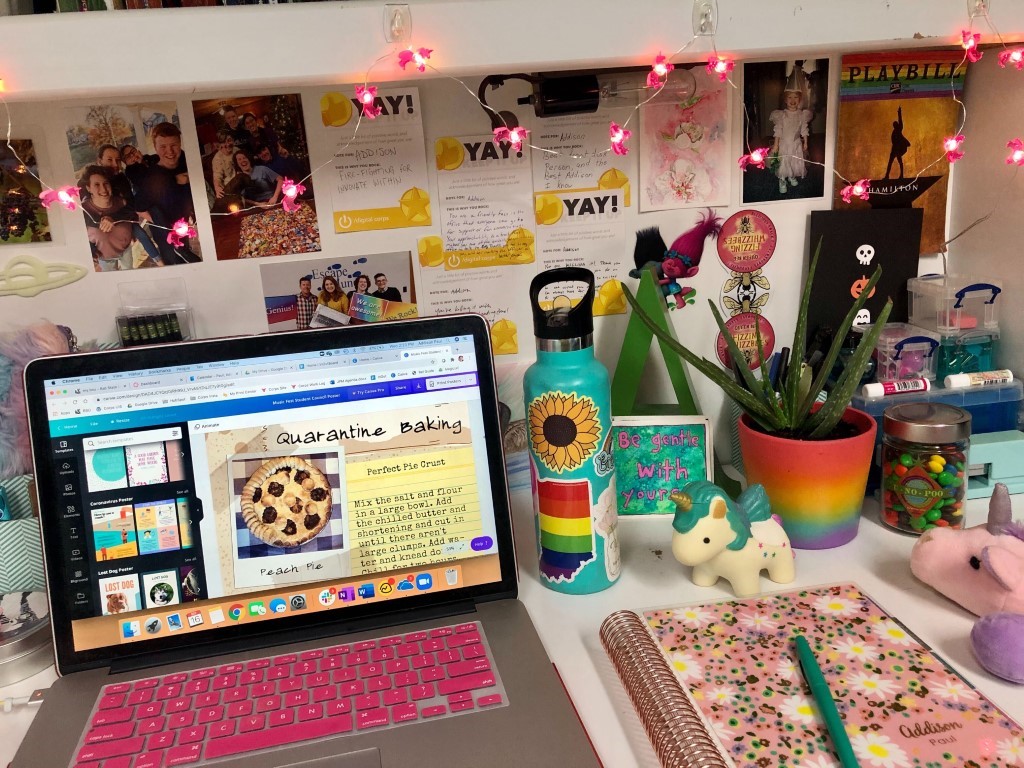 Understanding that remote work isn't just about, well, the work, can change how people approach the tough switch from being in the office to being at the dining room table. According to Global Workplace Analytics, as much as 30% of the workforce will be semi-remote by the end of 2021, and the upward trend of remote work will only increase as technology advances.  
The Digital Corps strives to prepare its students for all aspects of the industry, including the inevitability of remote work. Design Team Lead Josh Shaffer lead a soft-skill building workshop on the dos and don'ts of remote workspaces. Corps members then evaluated their personal workspaces, and we found that, on average, students rated their remote workspaces a 3.55 out of 5. Students continue to face the limitations of collegiate remote work accommodations, but four important pillars of their workspaces include functionality, organization, technology, and aesthetic.

Functionality 
Video Team Apprentice Lexi Esterle spent the summer working remotely for the Digital Corps. As a college student, Esterle was used to commuting between work, classes, dining halls, and home—a daily grind full of movement and variety. But once classes and the Corps went online, she noticed a drastic change in her work activity. 
"I tend to lose focus if I'm sitting for too long," says Esterle. "I'm not usually in the office for longer shifts, but at home, using a standing desk helps me focus."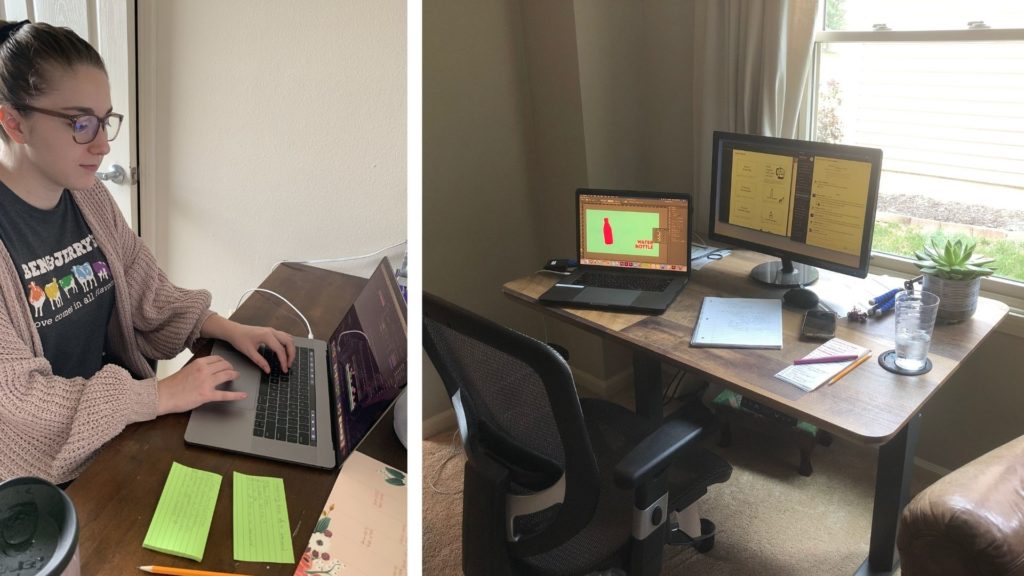 Throughout the summer, Esterle worked at a convertible standing desk equipped with an extra monitor and a plant. 51% of Corps employees feel that the ergonomics of their remote space are adequate, but many of our students don't have the luxuries our office would normally provide. Many college students don't have access to comfortable and functional chairs, desks, or even spaces, which shows how despite the circumstances, Corps students are adapting and overcoming challenges. 
Ball State alumna and former Digital Corps member Darby Siscoe recently switched to full-time remote work. As a UX Researcher for LegalShield, Siscoe works from her home office—originally a formal dining room converted into a workspace. Natural lighting and comfort are the two most important aspects of Siscoe's remote workspace, as she always sits by large windows and has a blanket at the ready.
"The windows are really important," says Siscoe. "They make the space feel more open, plus my cat likes them."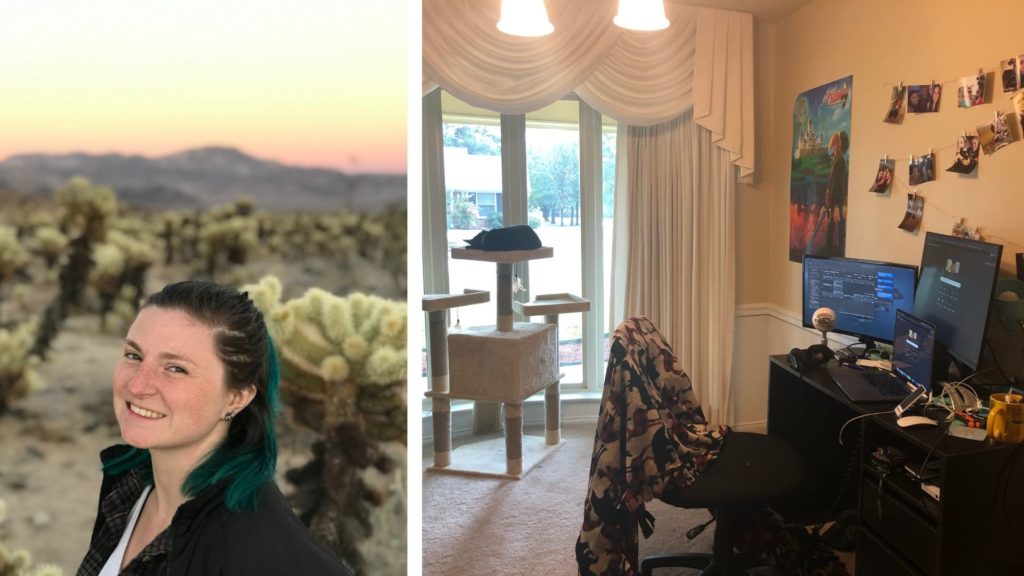 Siscoe made the decision to work remotely full-time because she feels more productive in a space free of the day-to-day distractions in an office. As an avid traveler, she also enjoys the freedoms remote work presents and the possibility of working from different locations. Working from home, however, has presented its fair share of challenges: brainstorming is especially difficult when participants aren't able to ideate in the same location. 
"Brainstorming while sitting isn't as engaging," says Siscoe. "We're trying to get people moving and changing up their workspaces to facilitate that better."
Organization
Nearly three quarters of Digital Corps students believe organization and cleanliness are the most important aspects of their remote workspace. Cleanliness is extremely helpful when working from a small, shared space, and since many college students don't have the luxury of a home office separate from their bedroom, organization is key. Drew Wiltberger, a Project Management Apprentice, likes to keep his remote workspace tidy.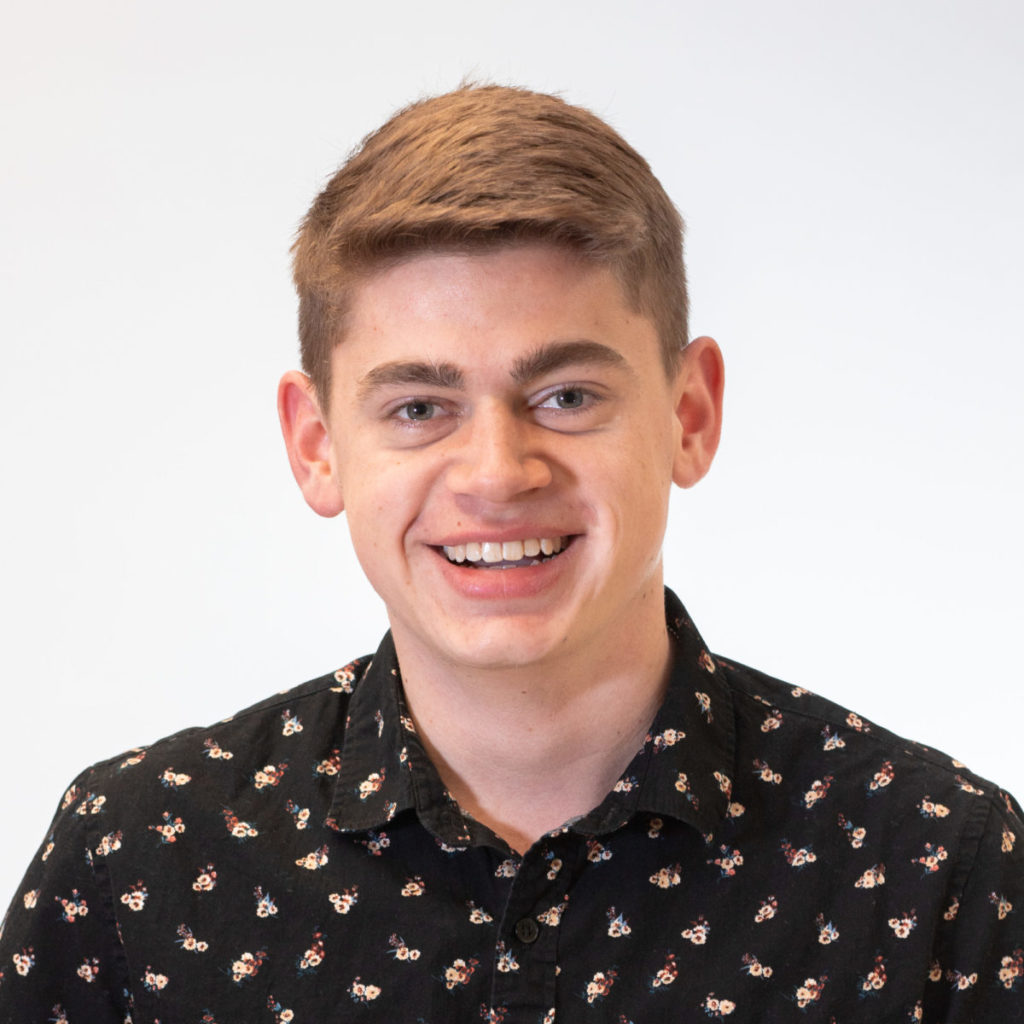 "I've really tried to keep my desk space clear," says Wiltberger, "Because it helps me stay focused and organized, which is essential to remote work." 
Though Wiltberger hasn't changed his work process much since being remote, he feels that organization is more important than ever. 
As a Ball State dorm resident, Wiltberger had to learn how to juggle online classes and remote work in a shared living space. Social interaction and idle chatter are both common in an office environment, but those distractions can become an issue when your roommate isn't your coworker. Sharing a remote workspace with a roommate complicates the digital work environment, but thorough communication helps improve the space.
"During the week, I let my roommate know when I'm working from our dorm, so that he isn't on a call during a meeting," says Wiltberger. "Really, just intentionally communicating with him has improved my remote work situation tremendously."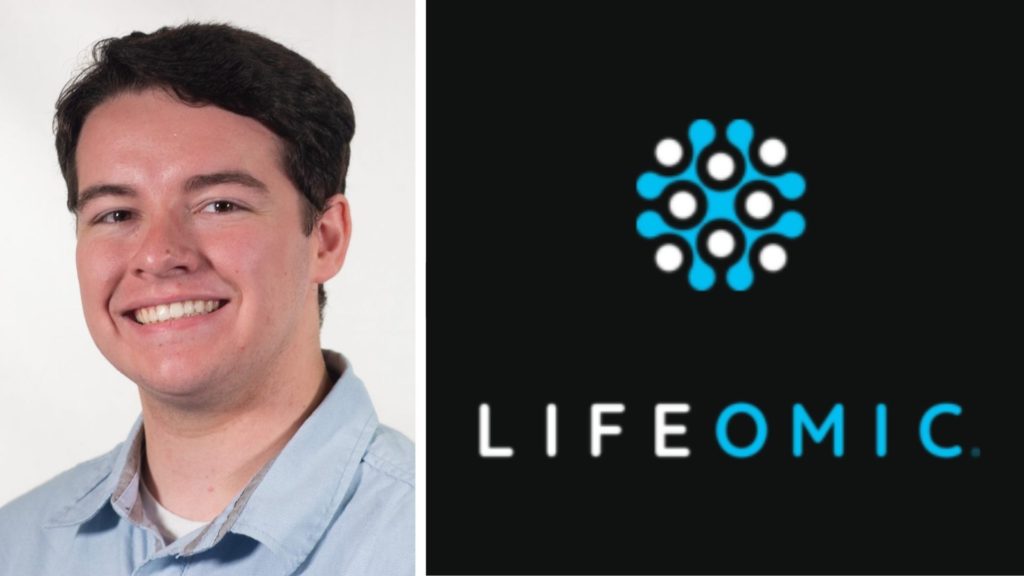 Like Wiltberger, Development Specialist Clayton Mercer is a proponent of a clean remote workspace. Mercer spent the summer remotely working as a Software Engineer Intern at LifeOmic, an innovative Indianapolis-based company. He found that a neat desk was integral for successfully completing tasks.
"If your space is cluttered, then your mind is cluttered," says Mercer. 
Technology
Access to technology can make or break a remote workspace, and many members of the Corps took advantage of remote work as an opportunity to expand their tech collections. From aesthetically custom mechanical keyboards, to Amazon's virtual assistant AI technology, Corps students and staff geeked out their remote workspaces. 
For many, a second monitor is the most important piece of tech for a home office. Mercer's multi-monitor setup allowed him to run code on the larger top screen and use his smaller bottom screen to view Slack and any search windows he needed.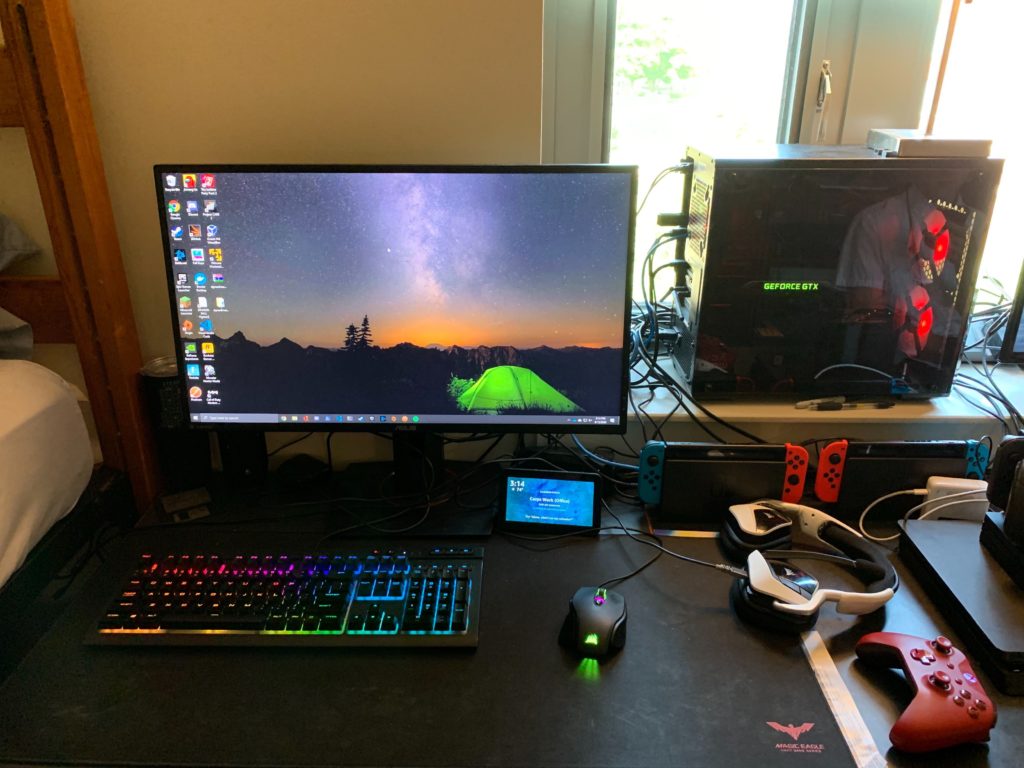 "This is where I get to nerd out," says Mercer. "If you can, I recommend getting a mechanical keyboard, a high-resolution monitor, and a good pair of headphones."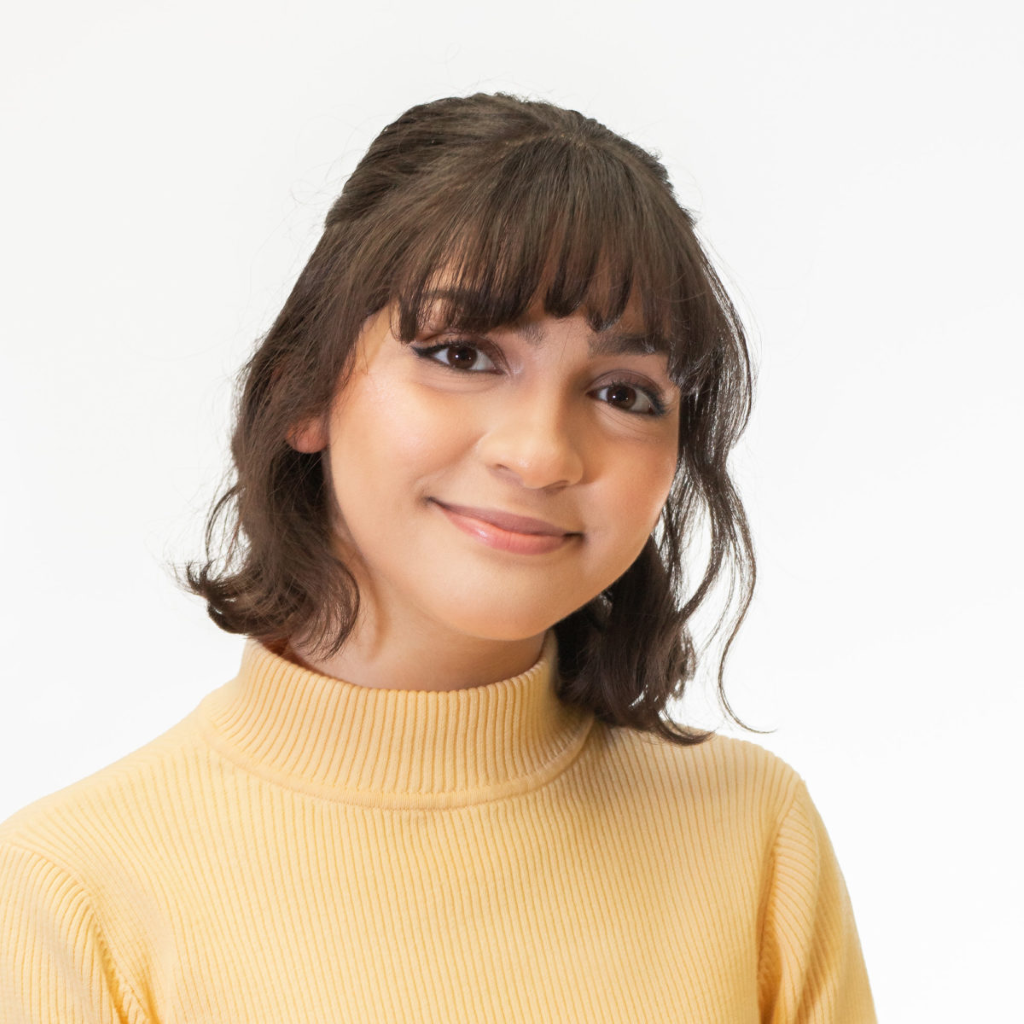 When it comes to remote work, Development Specialist Mera Alfawares prioritizes technology for her desk setup. Having access to quality technology can greatly improve the effectiveness of a remote workspace, and Alfawares focuses on her monitor and keyboard. 
"I'm very lucky to have my job at the Corps," says Alfawares, "Because that's basically what allowed me to invest in a more professional developer setup." 
Aesthetic
While aesthetic may not seem important compared to the overall functionality of the remote workspace, a fun and vibrant environment can boost creativity. Communication Specialist Amelia Cisna decorates her desk for the visual appeal, and to inspire her while she works.
"I function best in spaces that are uniquely mine," says Cisna, "Which is why I have posters, ticket stubs, and other personal memorabilia hanging on my desk bulletin board." 
Personalization not only makes a workspace unique, but it can also help creatives stay true to themselves throughout the creation process. Whether it's decorations, music, or even plants, the mood and aesthetic of a workspace influence productivity.
"I love personalizing the areas I live and work in," says Cisna. "It makes it easier to stay in touch with my values and my goals."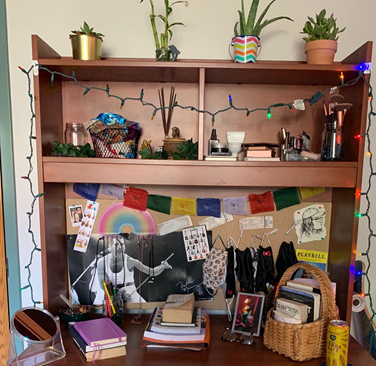 Alternatively, some people prefer a more minimalist aesthetic to foster productivity. Alfawares, for example, likes to keep her space visually appealing and functional by limiting the amount of clutter she has around her. As a lover of organizational tools, Alfawares points out that sometimes desk organizers don't contribute to the overall aesthetic, but rather, add unnecessary decoration.  
"I have a habit of buying too many organization compartments that only end up cluttering my desk space," says Alfawares.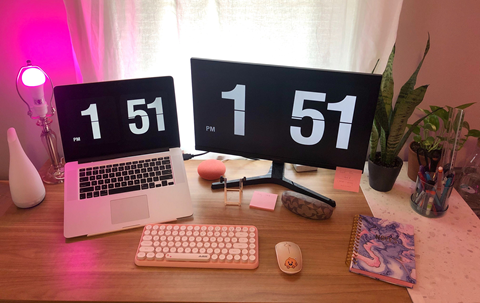 Switching to remote work can be tricky, and some people adapt to the challenges of remote work more easily than others. With the right workspace, however, remote work can be as productive, if not more so, than in-office business. Corps students continue to examine the importance of functionality, organization, technology, and importance, and with time and dedication, we'll all learn to make remote work.