Work-from-home has become the new norm in light of the current coronavirus pandemic. Even before COVID-19 spread into Delaware County, employees and students with the Digital Corps began implementing remote work practices.
On March 18, the Digital Corps officially switched to remote work. Before this, staff members worked diligently to ensure our office was equipped for social distancing best practices—limiting the number of people in the office and maintaining a six-foot distance between everyone. Staff moved external monitors, restricted seating, and expanded our office space into meeting rooms to safely accommodate all employees.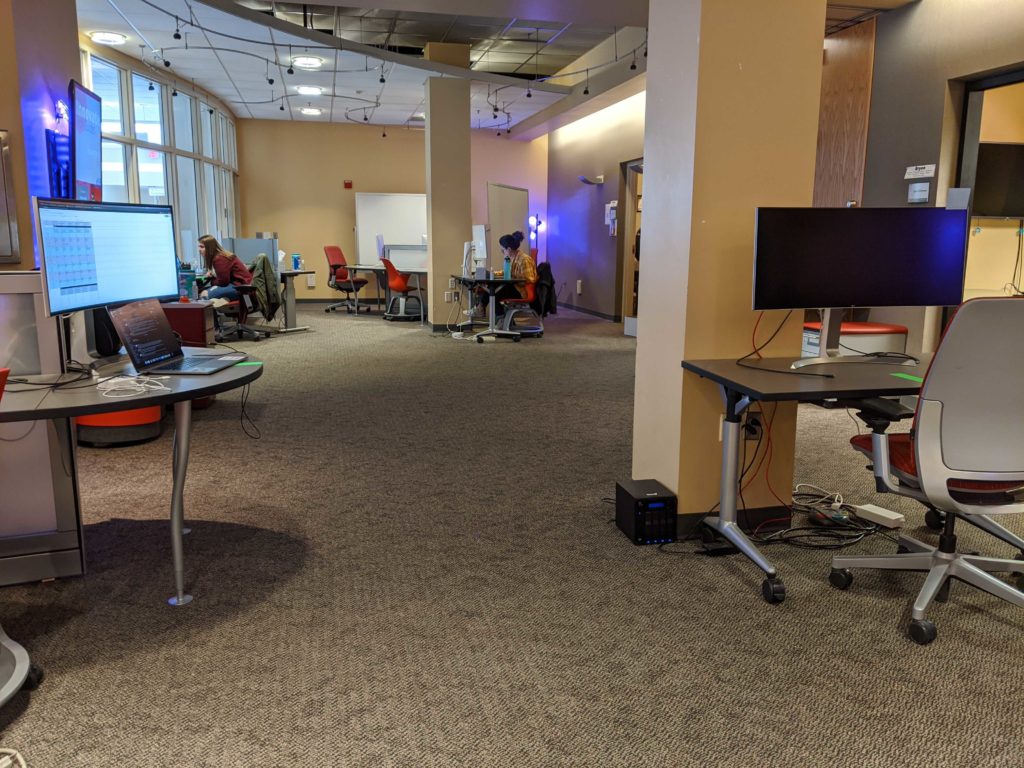 When our office closed, students and staff had to quickly adjust to a new way of working. Luckily, with ample access to technology, the switch has been smooth. For most of us, however, remote work is new and different. As everyone tries to navigate this change, we can follow a few best practices to maintain productivity and the quality of our work.
Setting up your space
Not all students and staff have a home office readily available to them, so a little bit of creativity helps build temporary solutions for this remote work situation.
"I don't have a nice desk or dual monitors or anything like that, so I've just been using my kitchen table as a desk," says Development Apprentice Madison Turley. "I sit near a window so that I can still get some natural light and I've moved my plants so that they are closer to me, which makes my environment and myself happier."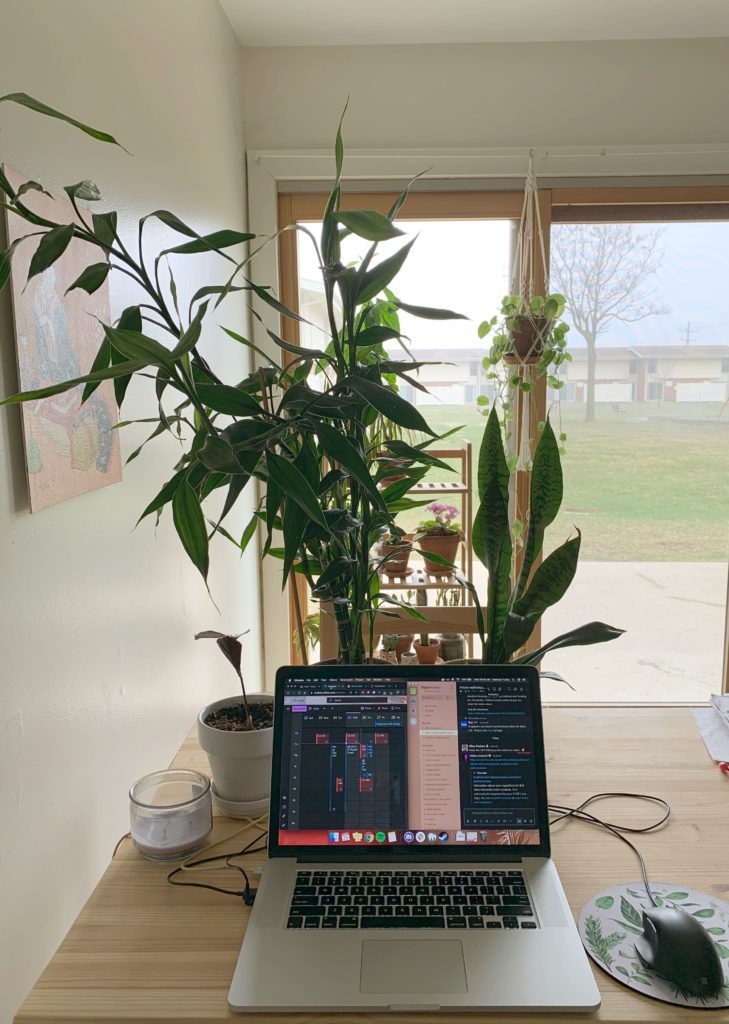 Although it's not high-tech, Madison's workspace is free of clutter and distractions, and creates a positive environment that helps her stay productive. Additionally, her access to natural light fuels the body to work better. According to the 2018 Ergonomics International Journal, workers exposed to natural light reported a 51% reduction in eyestrain, 3% reduction in headaches and a 56% reduction in drowsiness. Natural light also enhances mood and encourages creativity.
No matter the setup, your workspace should be functional and quiet. Separating work from play helps you stay focused and get more work done.
Sticking to a schedule
With a temporary work-from-home schedule, it is important to keep your usual routine. Doing so makes it easier to adjust to your normal schedule when you go back to school or the office.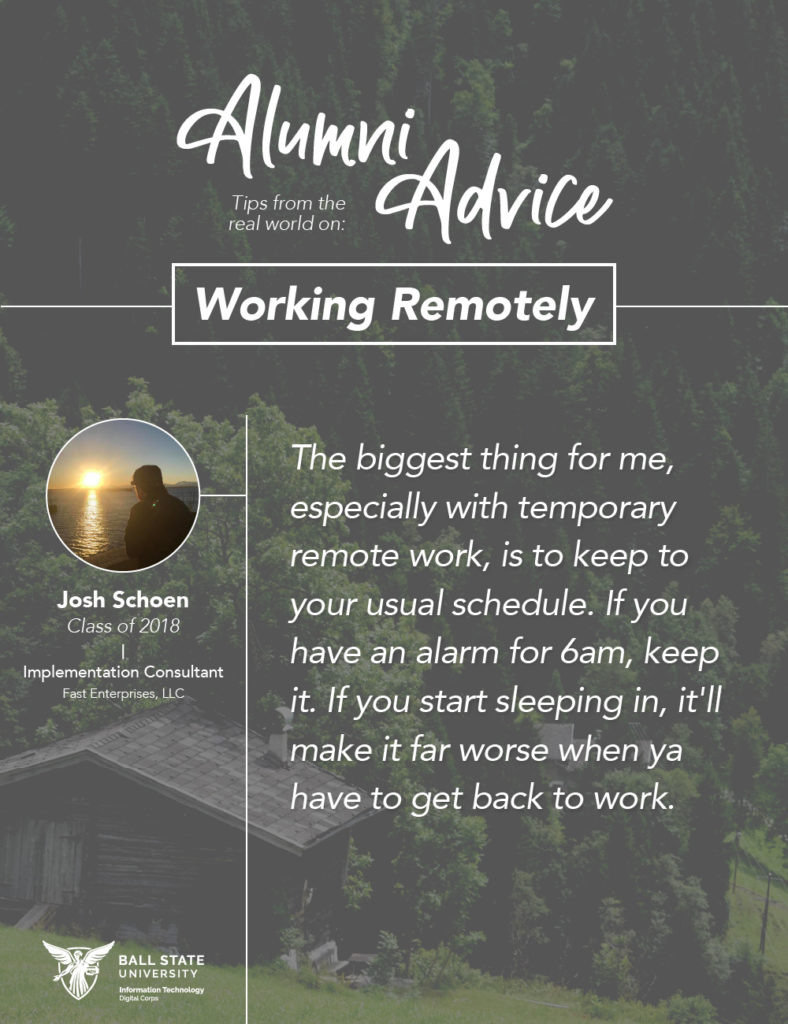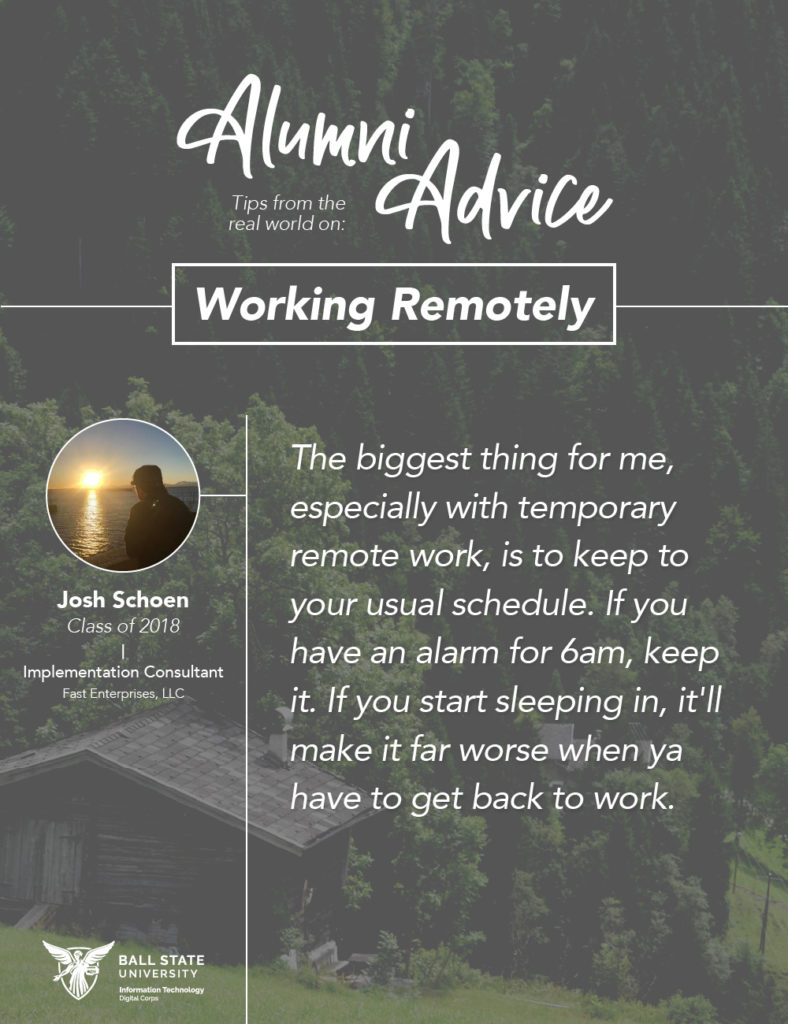 At the Digital Corps, we schedule our own hours so they fit around classes and other obligations. To adapt this method, the staff broke the remote workday hours into shifts so students still had the option to customize their work schedule.
After picking his work hours, Video Team Specialist Elijah Gannaway also took the time to ensure that his remote work routine was similar to his normal life.
"I try to make sure that I get up and have a big breakfast and shower to start off my day. Getting up around the same time day after day is good," says Gannaway.
It can be easy to feel burnt out from working remotely in one spot for a long period of time. Now that Elijah has more free time, jogging, taking a shower, or even napping helps him reset and tackle the next item on his to-do list.
If you are one who wakes up and goes through an early-morning routine before hitting the office or the books, keep at it. If you tend to work for a few hours, take a quick break, and then go back to work, keep at it. Doing what you would normally do in the office, along with other activities, will help the transitions from in-office to remote work feel more natural.
Staying social
Your remote workspace can get lonely after a while, especially if you're used to a busy work environment. One great thing about traditional office spaces is the community that comes with being around and working closely with other people every week.
Digital Corps employees are not only used to seeing each other at work, but also in classes and outside of the University setting. The hardest adjustment for a lot of us has been maintaining the social aspect of the job.
Thankfully, video chatting apps like Skype, Slack, WebEx, Zoom and even FaceTime provide employees, students, and educators with ways to stay in touch with each other. Even though we miss in-person meetings, Digital Corps students and staff can virtually chat and check in with each other every day.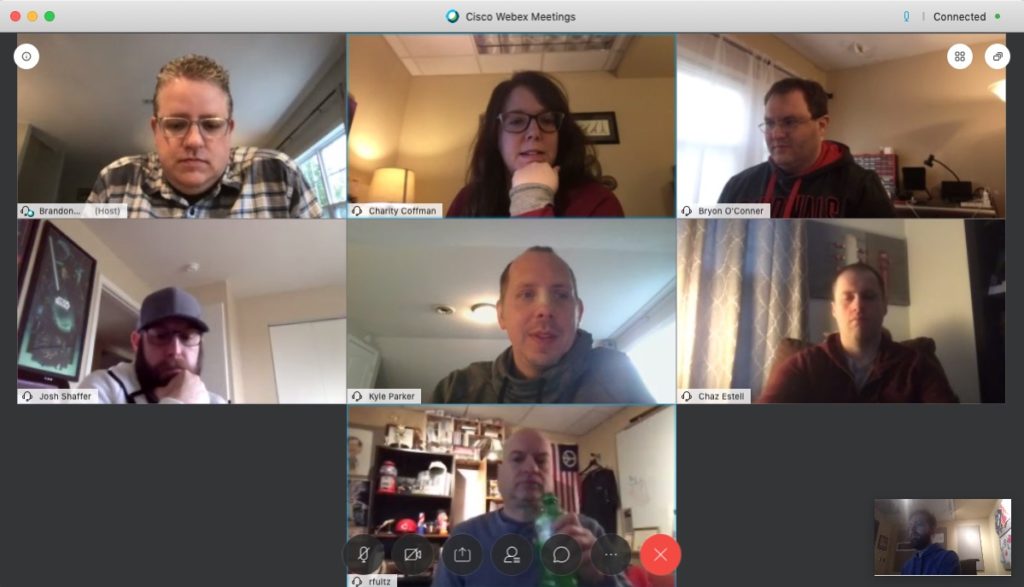 The Digital Corps uses Slack to stay up-to-date, not just on important project information, but fun activities as well. To keep morale high during this foreign situation, the Corps posts daily "Stuck Inside Tips" to provide employees with a quick way to spice up their days at home. From advice on napping, to challenging people to watch every movie from the Marvel Cinematic Universe, these tips spark discussions that keep us engaged with each other.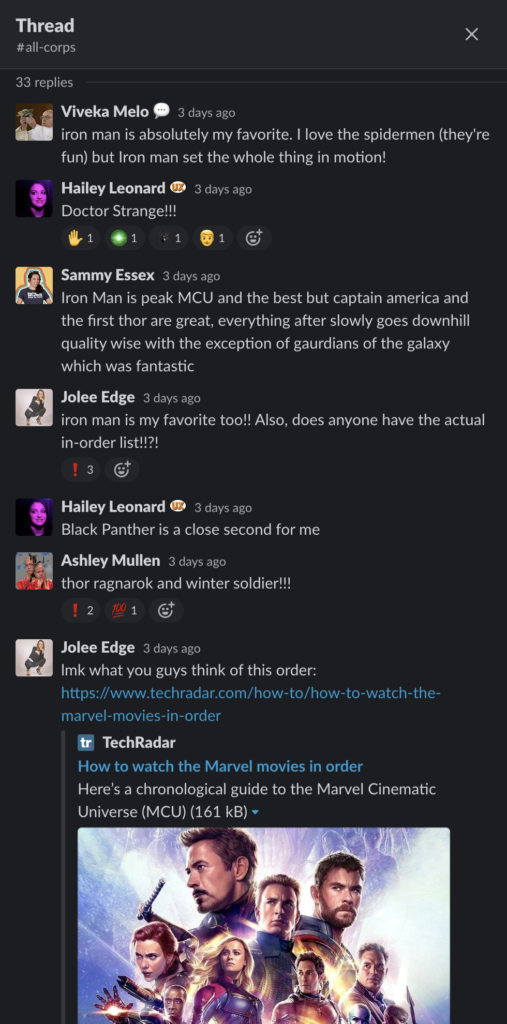 User Experience Specialist Sydney Barber got creative with a few coworkers to keep social during our office change.
"I've been keeping up with everyone in Slack for sure, but I've also been keeping in touch with my friends through social media and texting. A small group of us talked about maybe doing a lunch date through WebEx or Skype in the near future," says Barber.
With all of the technology readily available to us, virtual lunch dates and staying in touch with team members is easier than ever.
Capitalizing on downtime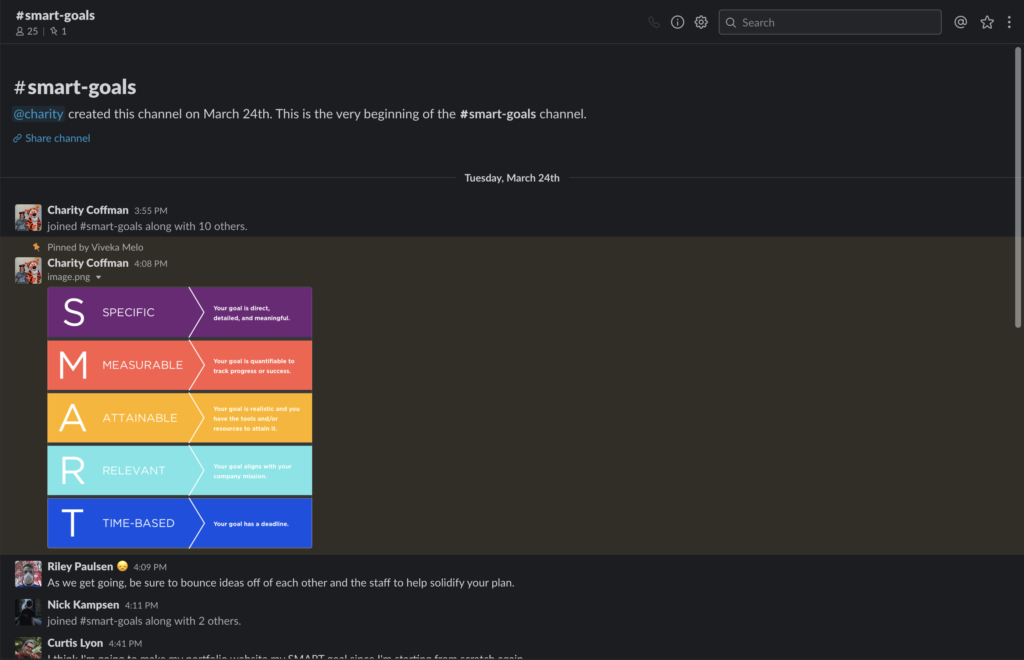 The transition to remote work leaves holes in the daily schedule that may have been filled by other tasks, like commuting or attending meetings. With suspensions on a few projects, some Digital Corps employees have more downtime than usual when working.
To keep everyone self-motivated, the Digital Corps started implementing SMART Goals again. Not only do SMART goals give us an opportunity to learn new skills, but they put a positive and productive spin on a difficult situation. The skills we continue to learn from managing our own goals help us stay accountable and driven, even when we can't come into our office.
If you find yourself with some free time during your typical workday or want to accomplish something after classes, consider establishing a SMART Goal for yourself. Our blog on SMART Goals is a great place to start if you need inspiration.
To sum it up,
Working from home can be a fun and refreshing way to escape the daily office work routine. There are added responsibilities that come with the freedom of remote work, but following these best practices will help make the transition easier. Setting up a solid workspace, sticking to a schedule, staying social, and capitalizing on your downtime will help you stay disciplined and focused while on the clock. Whether you are working from home by choice or out of necessity, we wish you the best of luck.
If you want to find more tips and tricks on how to handle remote work, check out our social media, where we're sharing advice from our alumni.
Stay healthy!