What is it? 
User Experience, according to Usability.gov, "focuses on having a deep understanding of users, what they need, what they value, their abilities, and also their limitations.  It also takes into account the business goals and objectives of the group managing the project. UX best practices promote improving the quality of the user's interaction with and perceptions of your product and any related services." 
At the Digital Corps, the User Experience Team is made up of four members: Viveka Melo, Hailey Leonard, Kip Sprout and Megan Dawson. While they all work together to create an effective user experience for the projects they are on, each member has an area of user experience that they like to focus on. These focuses include interactive design, complex systems, wireframing, and research methods.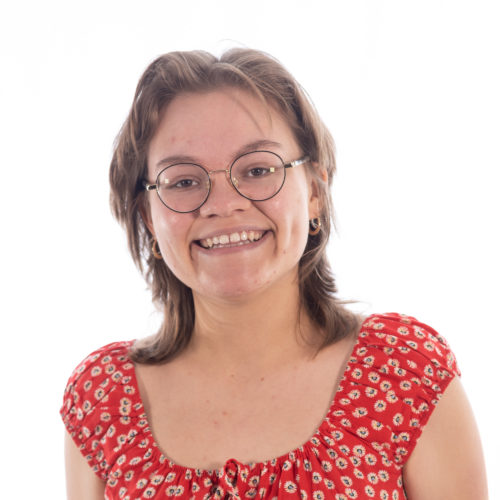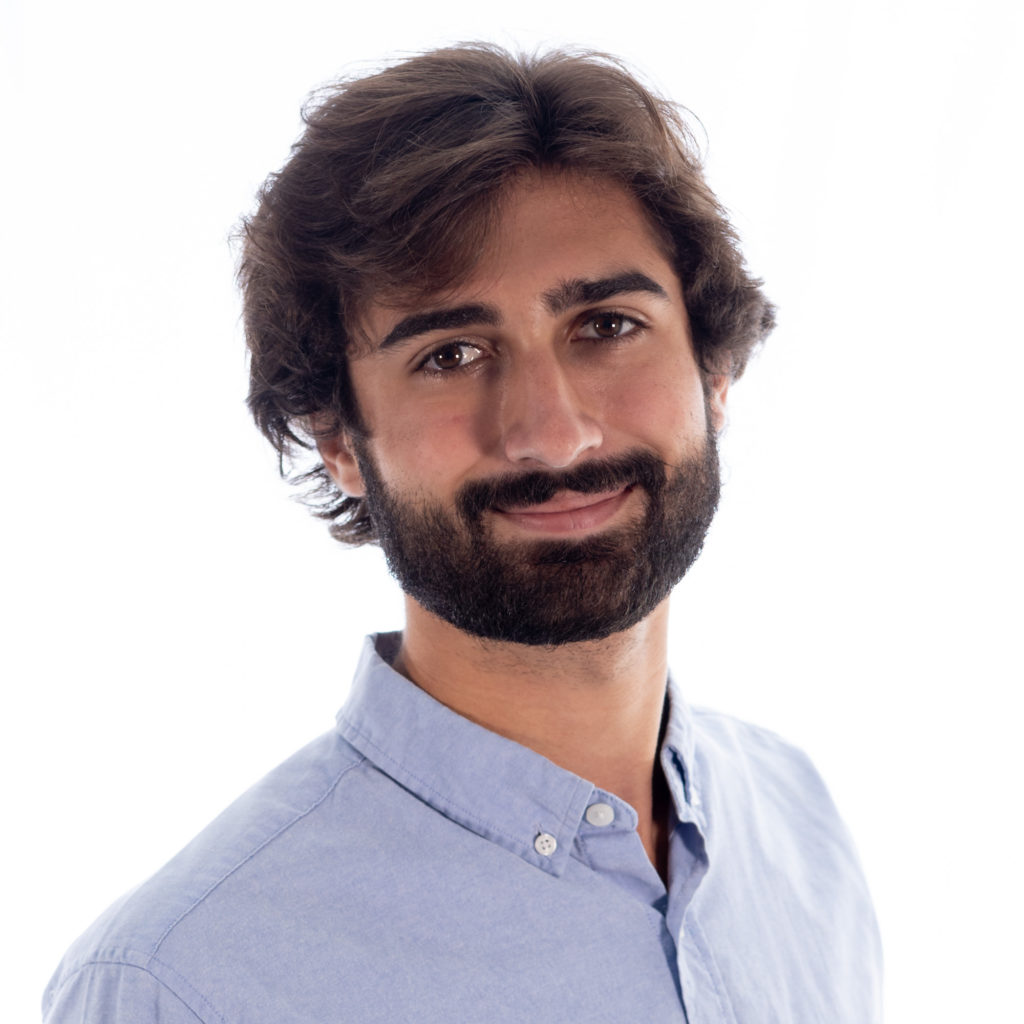 How it started… 
The UX Team started in the fall of 2015 and their roles have been growing ever since. The first UX project was called "My Voice." This was a large-scale research-based project where team members interviewed and surveyed Ball State students to address any issues they have during their school experience. The team then worked to solve the issues. For example, they put up infographics about the Wi-Fi around campus. Now, the UX Team plays a wide range of roles on projects, which includes helping create or evaluate designs, researching competing products, creating focus groups, and user testing.
Although their roles on projects have changed since 2015, their skillset remains the same. The purpose of the User Experience Team is to create a product that is accessible for all. "We want to make life easier and better for everyone. I think that UX is going to become more prevalent and rethinking either some of the old things that we have or creating new processes altogether," said Leonard, UX Team Master.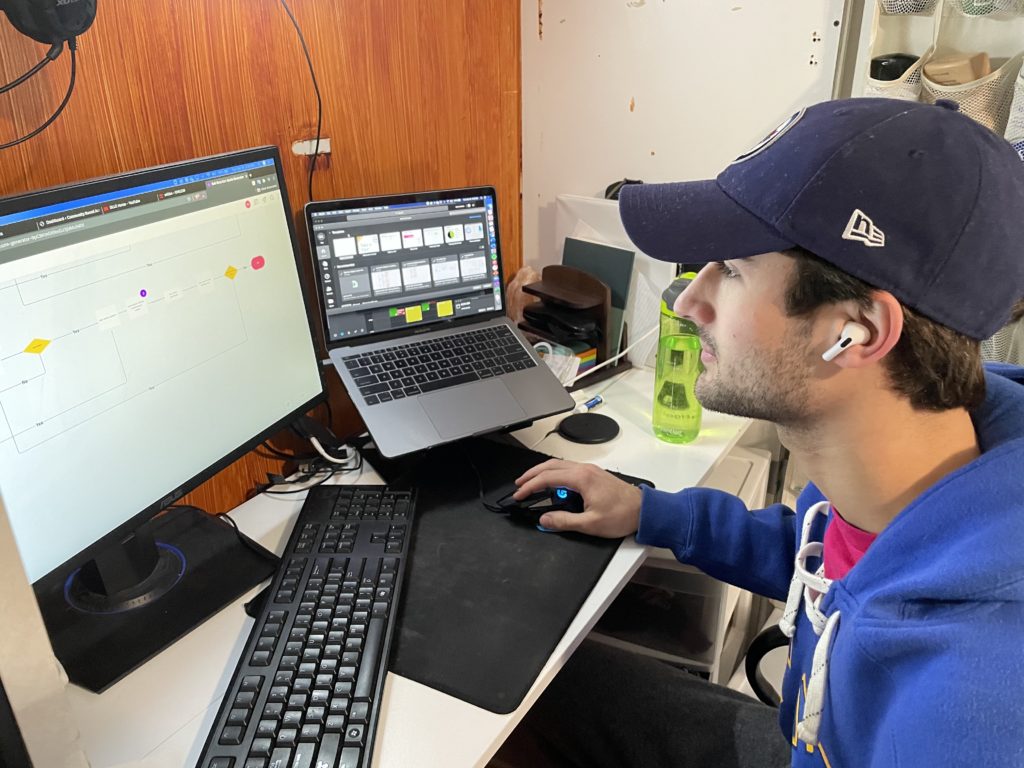 How it's going… 
Currently, the User Experience Team's main project is Student Journey Map. This project is for Ball State University's Student Success Executive Committee and is focused on mapping the student experience from freshman to senior year. The goal is to pinpoint the things that went well for students and the things that did not during their time at Ball State. Sprout explains that "We're just getting started. We're doing a lot of interviews with the departments. We've done upper level advising. We're going to do freshman advising. And we're also going to do focus groups with students asking questions about those departments."
Eventually, the team will combine all the information and put it together into a map, covering all the departments and showing where students interact with them. In order to accomplish this goal UXers use tools like creating personas, conducting focus groups, and more.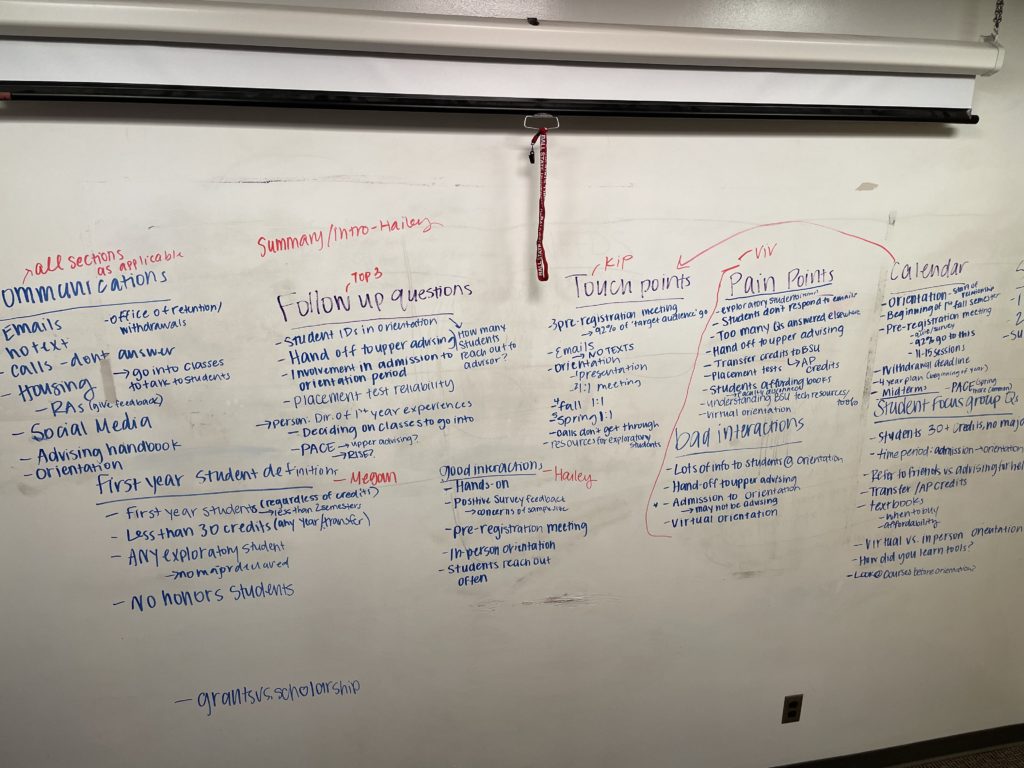 User Experience and Psychology 
Because of the tools that UXers use, user experience relates to psychology. It's centered around human psychology because UXers are not just designing a product, but an interaction with the user.
Viveka Melo, UX Graduate Assistant, earned her bachelor's degree in Psychology and is now earning her master's in Quantitative Psychology with the hope of a career as a user experience researcher. Being a psychology student has helped Melo further her understanding of user experience. "In cognition classes and sensation perception classes, you are learning about how people naturally and intuitively react to the world around them. Understanding the mind of the user helps apply those concepts to the product's overall design," said Melo.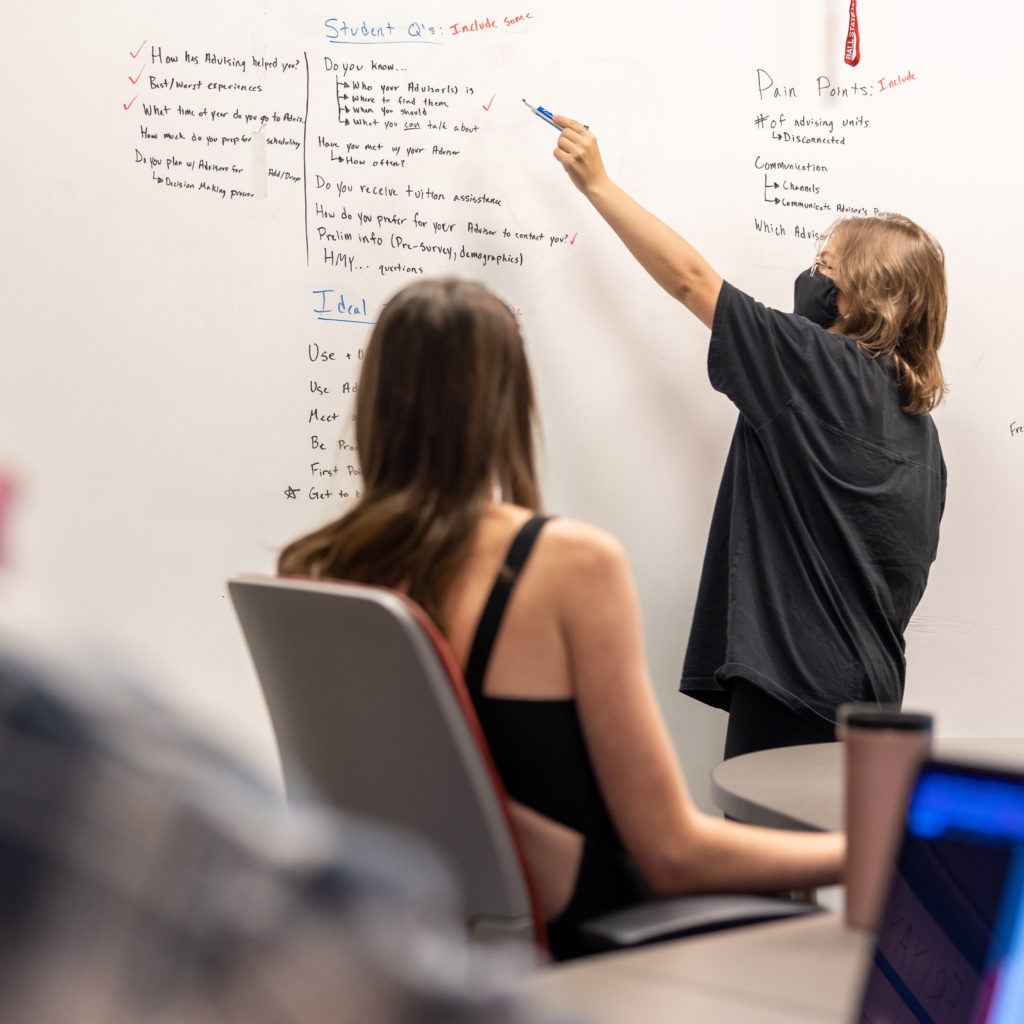 "The digital experience is just a tool to facilitate something between two people. It [user experience] is kind of like the middleman because it takes the work of the designers and developers and makes it in a way that is accessible for everyone," said Melo.  
The Future of User Experience  
User Experience is everywhere. It is not only used to create websites and apps that we use every day, but it can also be found in the real world. There are user experience teams that work to make the layout of grocery and retail stores and to help with city planning for things like roads and public transportation. It might not always fall under the same name, but the concept remains the same: to design an experience that is accessible for each individual user.
As the User Experience Team continues to grow at the Corps, Melo looks to the future. "It's still a new team, so we are trying to figure out what works. Right now, our main goal is to raise awareness about user experience, specifically at the Corps, so that everyone can understand the purpose of UX because the end goal is that everyone will be thinking about the user throughout the project cycle," said Melo.
The User Experience team would not become obsolete, but the skill sets for it would spread to everyone involved in the project. No matter what a person's role is on a project, everyone should put the user first when creating, testing, and implementing a new product. The great thing about user experience is that it is constantly evolving, making UX designers in more demand than ever. And with the growing demand for user experience designers, also comes the growing need for specialties.
The future of User Experience will require designers to have specialized disciples as more and more companies are creating specialized positions such as UX/UI specialists, interaction designers, UX researchers, content and product designers, and even voice-guided UI specialists. The User Experience team at the Digital Corps is similar to UX teams at other companies because of the diverse set of skills that each member has. For example, Melo does a lot of work with research methods and Leonard works a lot with interactive design.
User Experience is not only a new team at the Digital Corps, but it is also up and coming within the tech industry. The exciting news is that user experience will continue to evolve at the Digital Corps and in the development industry. According to MarketWatch, "over the next five years the User Experience (UX) market will register a 18.9% CAGR in terms of revenue, the global market size will reach US$ 300.7 million by 2024, from US$ 150.4 million in 2019," (MarketWatch, 2021).
When looking into the future of user experience, Megan Dawson, UX Team Specialist, hopes that "big picture, you would not need a specific team to do it. Everyone, during each part of the project will have the knowledge, expertise and the UX principles in mind." Every day we learn more about user experience and what it means to be accessible for all. The Digital Corps can't wait to see how the team and the industry continues to grow in the years ahead.