Remote Teaching
The Digital Corps collaborated with the Ball State University Teachers College to help teachers from all grade levels build effective remote classroom experiences.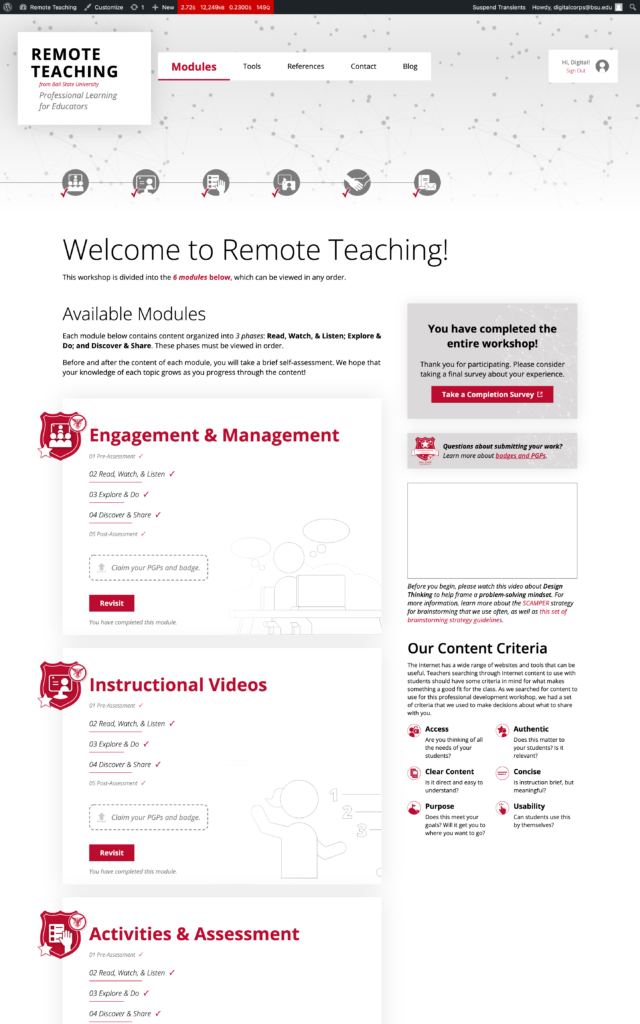 Preparing Educators for the Future
The Teachers College prides itself on preparing tomorrow's professionals in all areas of education. Since teachers all over the country are splitting time between in-person and online instruction, the Teachers College wanted to create an online resource for educators interested in creating successful digital learning environments. The Digital Corps created a website and brand for this effort that aids in improving students' learning beyond traditional classroom walls.
Corps Responsibilities
Students and staff worked together with faculty to plan an innovative and creative approach to tackle the topic of remote teaching. The Digital Corps planned and designed a complete website learning experience centered around six modules that cover different topics related to teaching from a remote setting.
The Digital Corps created a brand, designed low- and high-fidelity mockups, and wrote copy that aligned with the clients' vision. Then, students developed a functional website and videos that highlighted the critical topics educators need to know when making the most of remote.
In the end the Digital Corps delivered:
A comprehensive brand

A website with one course of six modules about remote teaching

An assortment of videos to complement the website

A registration process that integrated with a third-party payment system
Mastering the Digital Classroom
The Remote Teaching website will help new and experienced teachers navigate digital education with confidence. Educators will have access to professional feedback and a cumulative resource of materials from other teachers to help build a successful remote classroom.
Skills Learned
Developing a Highly Customized Registration Process
Informational Video Production
Detailed Usability Testing
Brand Creation