Interactive Touch Technology
Keeping up with emerging technology is an essential part of the Digital Corps philosophy, and in 2019 and 2020, students tackled a few new challenges: developing and designing user-friendly interactions for touch tables and wall screens.
The Digital Corps collaborated with Ball State University's Emerging Media Design and Development master's program to learn about creating deliverables for interactive technologies.
After a semester of planning, the Digital Corps produced four interactive proof of concepts to familiarize staff and students with the creation process for interactive touch tech.
Student-Driven Solutions
Experimenting with new technologies encourages our students to find creative solutions to ever-changing problems. It took collaboration amongall six Digital Corps teams to build these interactive games from the ground up—exemplifying our core value of interdisciplinary learning.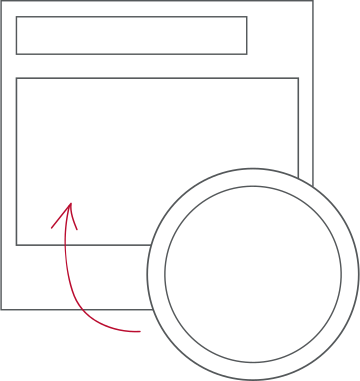 Students created an engaging gaming experience by working with tangible pucks that users place on a touch table to access options and information. For the wall screen, the Corps designed and developed a two-player game, keeping in mind accessibility for people of different heights and abilities.
In the end, the Digital Corps delivered:
Proof of Concept guiding future teams with the technology

UX Plans to deliver tested qualitative research

Mockups

Research

Multitouch Games

Animation

Photogrammetry
Preparing for Future Innovation
The interactive touch tech projects provided opportunities to learn about new hardware and software, helping students hone their skills with the latest technologies. The explorative work over the course of the last year paved the way for projects to come. Understanding emerging technologies not only prepares students for ongoing innovation but kindles a passion for lifelong learning. The interactive touch tech projects opened new doors for the Digital Corps and equipped students to find better solutions for future clients.
Skills Learned
Developing with Unity
Creating Paper Prototypes
Design Thinking
Testing Accessibility
Creative Problem Solving