Community-Based Action Planning
The Digital Corps collaborated with the Indiana Communities Institute to help improve life experiences in Indiana cities, towns, and counties.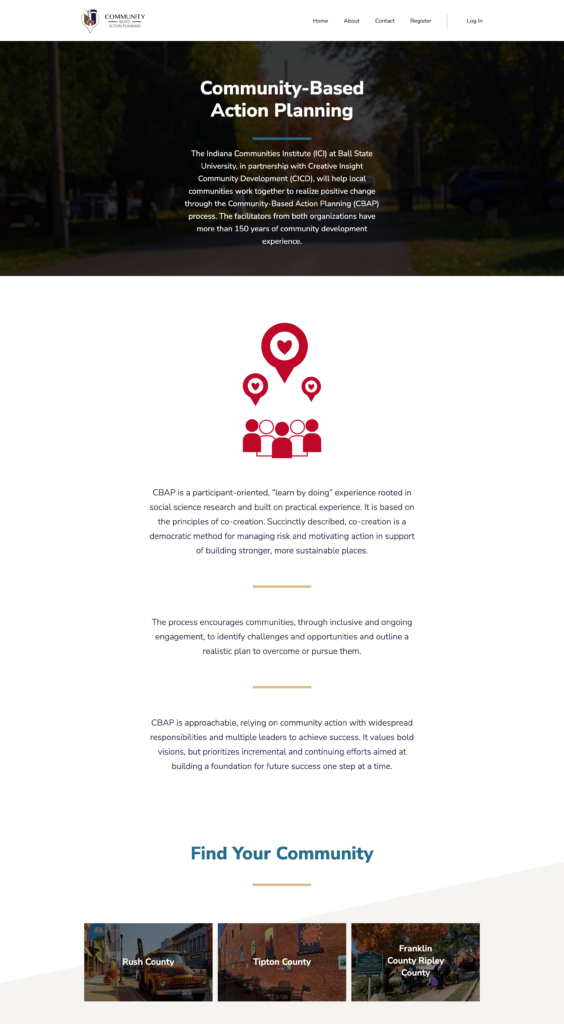 Fostering Community Progress
The Digital Corps and The Indiana Communities Institute within the Miller College of Business wanted to help local communities create change in their areas through Community-Based Action Planning (CBAP). Through the CBAP process, communities are encouraged to identify challenges and opportunities within their area and then create realistic plans to overcome or pursue them. The Digital Corps created a website and brand for this effort that allows for inclusive and ongoing engagement.
---
Corps Responsibilities
Students and staff worked closely with the clients to build a platform for Indiana communities to engage with content and submit work for review. The Digital Corps put together a complete website that contains lectures and instructional guidance from the professional staff within ICI.
Digital Corps students created a brand from scratch that aligned with the clients' needs. Then, they developed a website, along with videos and branding templates, for Indiana neighborhoods, cities, towns, counties, and regions to use in their efforts to build better foundations for future community success.
In the end the Digital Corps delivered:
A comprehensive brand with accessible templates and guidelines

A website

5 Informational videos
Improving Indiana Community Efforts
Our work on CBAP will aid Indiana communities as they shift toward community-first approaches to help build up their areas and retain talent. With a central hub for these communities, they will strengthen their economies and positively impact the state of Indiana.
Skills Learned
Web Development
Brand Creation
Usability Testing
Collaboration with Multiple Organizations