Where Do You Start?
There is no question that navigating the workforce is stressful. Before you get the job, there's that anxious waiting period, countless interviews, and then another anxious waiting period to hear if you were offered a position. Talking about the process of advancement can be taboo in the office, like how to navigate, or even start the process when you've been in a position for a while and are looking for a way up the ladder. Being hired at the Digital Corps was one of my first professional jobs, and I was excited to get started. I was slightly taken aback when they told me I would spend an entire semester in training because I was really interested in immediate advancement. Soon, I realized that to earn more responsibility and possibly a promotion, I had to take advantage of the advancement opportunities the Corps provided for me.
Advancement vs. Promotion
Many people think advancement and promotion are the same, but they differ. There are several key aspects for each: usually, career advancement entails developmental work, whereas promotions encompass moving to higher-level roles within an organization, according to Indeed. HubSpot, Google, and Microsoft employees report having accessible advancement opportunities within their companies. But what does that mean? Firstly, there's upward mobility, which is the biggest difference between a promotion and advancement. With promotions, upward mobility is moving up to a higher position. In terms of advancement, you engage in tasks that help you gain more knowledge or develop a deeper understanding of your role, but you may remain in the same position.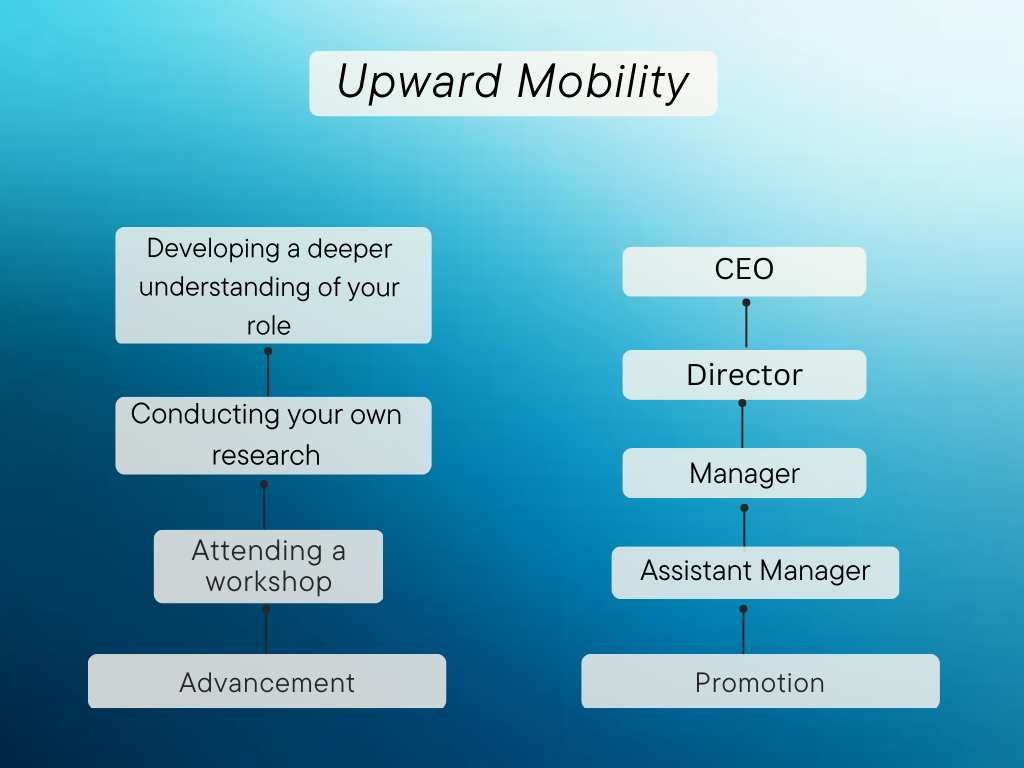 The next difference is compensation. Usually, promotions come with a pay increase associated with a higher-level role. Career advancements keep employees at the same salary or pay rate. Then comes job performance. There are times when advancement and promotion can overlap, and one can lead to the other. For advancement, employers usually want you to exceed your job requirements and show initiative that highlights your leadership qualities. If you are looking for advancement in your job, try voluntarily taking professional development training or leading a monthly team meeting. Skills like this will help you advance in your position and prepare you for a promotion. Showing advancement and leadership ability could be enough to have you considered for a promotion when the time comes.
Putting It in Action
Now that we know the difference between advancement and promotion, let's look at the ways you can apply those skills to your work. In the tech and media industries, it's mostly about keeping current. Firstly, it's important to refine your soft skills and hard skills. Hard skills could include learning new software, interpreting a new line of data, engaging in project management, and more. Soft skills include critical thinking, time management, taking initiative in a leadership role, and enhancing your communication skills. For example, you could combine the two by learning Microsoft Office software and leading a meeting teaching your coworkers or peers how to use it more effectively.
Secondly, you should always be aware of the latest industry trends. You don't want to promote outdated information or hop on late trends because it doesn't show that you're evolving. Reading and understanding how emerging trends and technology impact your industry or company is important for you to gain deeper knowledge of your role in your organization.
Always seeking feedback is also essential when trying to advance. It helps you know where you excel in your work and where you may need to improve. Seeking feedback is important for everyone, no matter what position they hold in a company, because we all need to be aware of our areas for improvement.
Lastly, networking plays a crucial part in any career. Some say success is all about who you know, and to an extent that's true. Networking is a continuous process where you connect with people in your field and if you have the right skills and qualifications, your name might come up during promotions discussions.
Advancement at the Corps
When it comes to students' advancement at the Digital Corps, everyone has opportunities to take the initiative. The Corps offers project management training to gain experience taking charge of different projects, and volunteering to take on more responsibility, like presenting for Corps conversations, pitching ideas for projects, and honing specific skills within teams.
All students start off at the Corps as an Apprentice. The first semester consists of training as they get more comfortable on their team. At the start of the second semester, they get into projects, show responsibility, and start taking initiative to show they deserve a promotion. If they are promoted to Specialist, they are tasked with more hours and responsibilities, but with that comes the reward of a pay increase. Then if they choose, they can apply to be a Master at the Corps, which includes demonstrating standard understanding of all teams as well as advanced knowledge within their own team. Project Management Master, Drew Wiltberger, has been working at the Corps since the Spring of 2020 and started off as an Apprentice.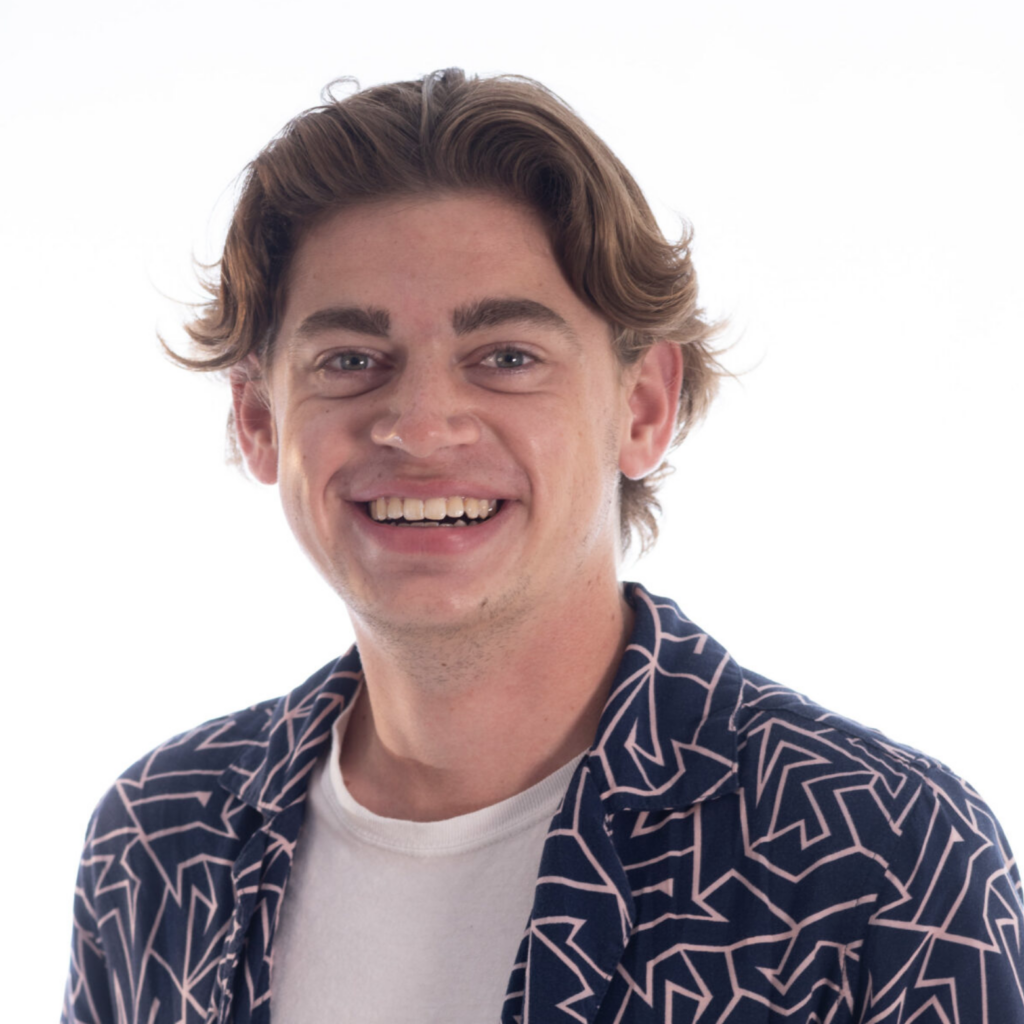 "When applying to be a Master, you have to show that you have a baseline understanding of all of the teams in order to be able to work with all of them," says Wiltberger, who specializes in Video but had to learn to work with all teams.  
As a Master, students have an opportunity to provide leadership and guidance for the Corps as a whole. Another student who started off as an Apprentice and is now at the highest level of Master, is Lauren Monasa, and she explains how she took the initiative in her role, even during a pandemic.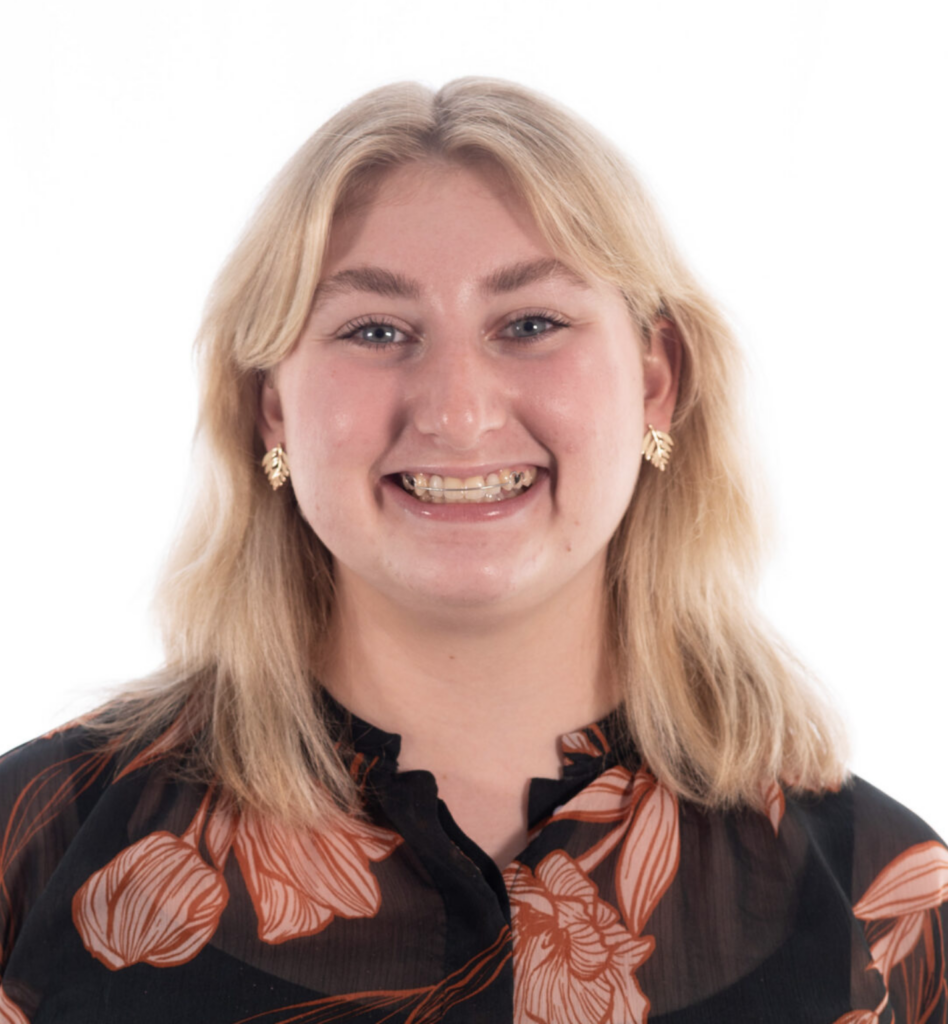 "When I was an Apprentice PM, I had no idea what I was doing because I started at the Corps during Covid," says Monasa. "But I did try to take a lot of initiative because I feel like that's the most important thing when going for a promotion. Doing extra things like talking to my team lead and trying to ask for help when I have a problem was to show that I'm cognizant of my strengths and my weaknesses."
Fortunately, if you have a staff that truly cares about you, like we have at the Corps, they will push you in the right direction in terms of personal and professional growth. If you want to excel further in your field, sometimes you must allow yourself to be pushed outside of your comfort zone and try things that you aren't super familiar with.        
"When I got hired, and even to this day, I really like to work on video projects because I understand the ins and outs of it," says Wiltberger. "Whereas with the Development Team, because I don't have the baseline understanding that that team does, I feel like it's harder for me. I feel like staff specifically put me on those projects in order for me to learn how to do that and I am grateful that it happened."
When you're passionate about your career, that ambition to learn and grow will help you, not just as an individual, but in your company as well. In the end, these skills could help you receive a very well-deserved promotion.